We've known this was coming for a long time. Jeff Van Drew, a popular State Senator in New Jersey's 1st Legislative District, had been crowned the favorite son of the DCCC and George Norcross, a power broker that some have called the most powerful, unelected man in New Jersey politics. The coronation of Van Drew had come before he even officially entered the race, when Frank LoBiondo, the longtime Republican decided to retire from his House seat in New Jersey's 2nd District. Norcross gave him his blessing, and he entered the race soon after.
By David Todd McCarty | Wednesday, April 11, 2018
This wasn't the first time Van Drew had considered running for Congress, but in the past, there was never any real guarantee that he would win, until last fall. With LoBiondo out of the way, and the powerful backing of Norcross, Van Drew could finally see a path to Congress.
It's true that Tanzie Youngblood had thrown her hat into the ring long before LoBiondo announced his retirement. The retired school teacher and Blue Star mother had announced her intention to oppose LoBiondo in 2018, even though he had successfully held that seat for 23 years. But until LoBiondo vacated the seat, her campaign was not seen as a real threat.
Cook Political ranks New Jersey's 2nd Congressional District as open, but with a +1 lean towards Republicans. Meaning that it's a wide open race with a slight edge to the Republicans. The problem is the Republicans don't have a clear front-runner, and are currently fielding a race of no less than eight candidates. The most likely candidate seems to be Hirsh Singh, a Linwood resident and engineer, who most recently ran for Governor and lost in the primary after garnering only 9% of the vote. Singh is running as a conservative Republican eager to support Trump's agenda.
"South Jersey deserves a conservative champion in Congress, someone who will defend the president's agenda, fight to bring our fair share of tax dollars back to South Jersey, and stand up to Nancy Pelosi and the radical left," Singh said. "The president's agenda of slashing regulations, cutting taxes and returning decision-making to state and local governments is working to grow the economy and must be supported."
While Cook Politics ranks New Jersey overall as leaning blue, NJ-2 has some fairly conservative pockets and tends to lean slightly red, and is 75% white.
All this tends to favor a conservative Democrat, similar to what we've seen in other districts that previously voted for Trump, but where Democrats were able to flip the seat by running a conservative Democrat who didn't necessarily campaign in lock step with the national party agenda.
The most recent example of this being Conor Lamb, who became the first Democrat to represent the Pennsylvania 18th since 2003. Lamb is a former federal prosecutor and Assistant U.S. Attorney, with a record of military service with the Marines. He said he would not support a ban on assault weapons like the AR-15, but favored a stronger system of background checks but no new regulations.
The fact is, the New Jersey 2nd Congressional District encompasses a sizable rural area, where hunting is still a very popular tradition and where gun rights are fiercely defended. There are large pockets of Trump country, and a sizable conservative base. So, running a progressive democrat would force, even moderate Republicans toward any registered Republican on the ticket, rather than risk electing a radical Democrat.
From the view of the DCCC, it's easy to understand why they would back a candidate that has voted against same-sex marriage and gun control, and supported pulling New Jersey out of the Regional Greenhouse Gas Initiative, backed a controversial pipeline through the environmentally sensitive Pinelands region, and sponsored a proposed constitutional amendment that would allow the state to require parental notification for abortions.
They think he is their best shot at flipping another seat in the House—and they're not wrong.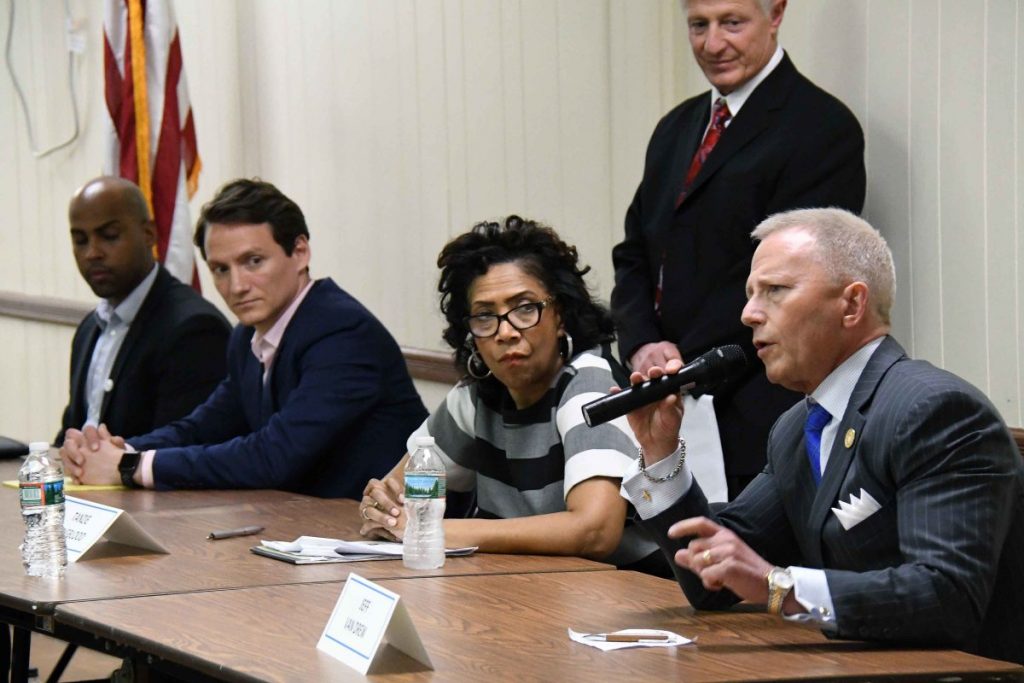 While local progressives are beside themselves about Van Drew's voting record, no other candidate has stood out as a viable candidate capable of beating Van Drew in the primary, let alone beating a Republican in the general election. Youngblood, while passionate and outspoken, is inexperienced, never having held public office, has very little name recognition, and has no real fundraising apparatus that would entice you to believe she could close the gap between her and Van Drew.
To make matters worse, Van Drew is running largely as if he's unopposed in the primary. He's shown up to only a handful of events that pit him against his lesser known opponents, a strategy that seems to be working, because he's been able to stay out of the fray, and has really not been challenged on his record in public.
All of this leads me to conclude that Van Drew is the likely nominee for the Democratic candidate for the House of Representatives 2nd District seat come November, and the only thing we can do by attacking his record, is potentially weaken him in the fall. I see no reason to expend resources or even good will in an effort to discredit him, when the greatest strength he has is in keeping outside funding from flooding into an election the Republican don't think they can win. Jeff Van Drew is a conservative Democrat with an A+ rating from the NRA. How are you going to attack him from the Right?
But that doesn't mean he gets my vote in June.
In the primary, I will vote for one of the other candidates who better represents my views on immigration, equality, justice, and gun control. I want to send a message that this isn't the 1st Legislative District anymore, and he can't simply count on conservative Trump voters to keep him in office. He's going to need to court Democrats if he expects to win in November, and I'll be ready to tell him what I expect of him should he win.
David Todd McCarty is the Publisher and Editor-in-Chief of The Standard. In addition to being a writer, photographer and commercial director, he's a Partner and Executive Creative Director for an international advertising agency. You can follow him on Twitter @davidtmccarty
SaveSaveSaveSaveSaveSave