At the edge of a sprawling, dusty city built from red African clay, and within sight of a 16th-century mosque, American soldiers and contractors work under the hot desert sun, building a new airfield and the surrounding infrastructure needed to operate one of America's newest military bases: US Air Base 201.
By David Todd McCarty | Sunday, April 29, 2018
In the "endless war" against terrorism, America's focus has quietly shifted from the Middle East to Africa. The Islamic State, Al-Qaeda, and Boko Haram, are just some of the groups that have popped up in the vacuum of weak central governments and threaten an already tenuous semblance of stability.
Most Americans were largely unaware of the fight in Africa until October of 2017, when four soldiers were cut off from their unit and killed in a firefight with fighters loyal to the Islamic State. The American soldiers were part of a special forces unit allegedly in place to train, advise and assist Niger's military. How then, many wanted to know, did American soldiers get sent to search a suspected terrorist camp, a much more dangerous mission than they had originally planned? What exactly was America doing fighting in Africa? This has never been fully answered publicly, but what we do know is that they were operating near the town of Kollo, a town in southwestern Niger, where NGOs as well as missionaries and Peace Corps volunteers are stationed. To this day, all that most Americans know about the incident, is that the body of Sgt. La David Johnson, who was killed in action, was left behind as the unit retreated after being ambushed by a much larger force. It would be several days before his body would be recovered. The NY Times called it, "the largest loss of American troops during combat in Africa since the 1993 "Black Hawk Down" debacle in Somalia."
Agadez lies in the center of the Sahara Desert in the impoverished African nation of Niger. Established as a trading post in the 14th century, Agadez has more recently become home to smugglers who trade in humans where their ancestors once dealt in camels, tea and salt.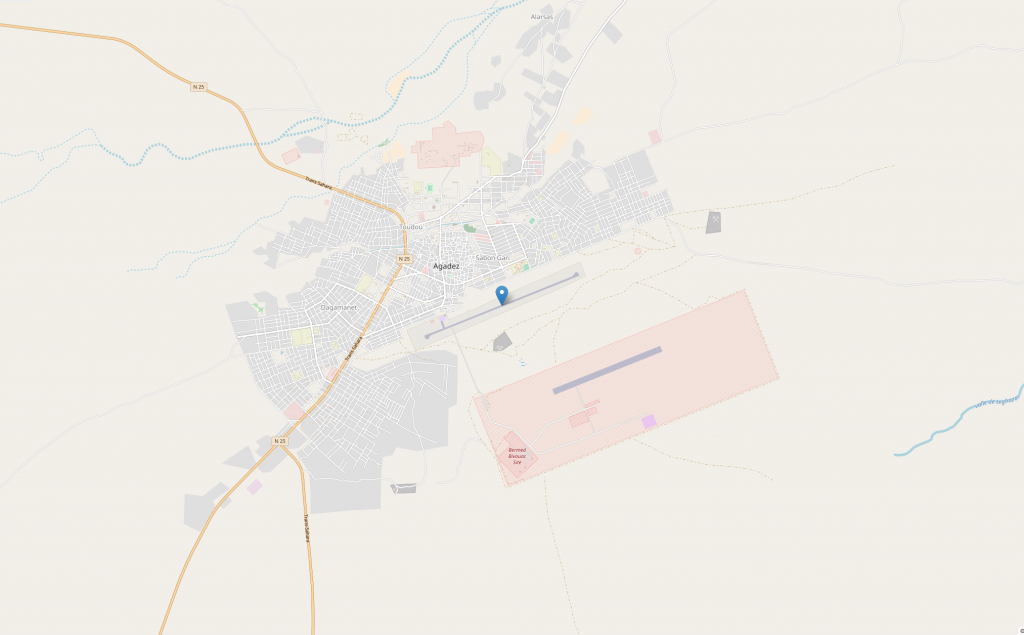 In recent years, hundreds of thousands of migrants from across Africa, endure the often deadly journey through Niger in order to get to ports in Libya and eventually onwards to Europe. No one knows exactly how many die in the desert, but ever since the EU pressured the Niger government to crack down on the smugglers in exchange for much-needed aid, the government has launched an effort to thwart the smugglers, forcing them to take ever more circuitous and dangerous routes. Trucks become stuck and in temperatures that range from well over 100° during the day, to 50° at night, cause thousands to die due to exposure and lack of supplies.
According to a 2012 census, Agadez has a population of 118,224, making it the largest city in Niger. At 490,000 square miles, Niger is the largest country in West Africa, but 80% of the country lies within the Sahara desert. A majority of the population lives in rural areas, and have little access to education. As of 2015, 71.3% of Niger's population cannot read, one of the lowest literacy rates in the world.
In July of 2017, Arwa Damon, a correspondent for CNN wrote, "Agadez is becoming a tinderbox, packed with migrants willing to risk everything, those who have spent all they had and failed to make it to Europe, and an unemployed local population, that is rapidly running out of patience."
Mano Dayak International Airport is a medium-sized airport for Niger, with a single runway is 3,000 meters long, serving the region of Agadez. It sits at the edge of town, and just south of the runway, lies US Air Base 201, barely a stone's throw away.
Not much is known about Air Base 201. It was commissioned in 2016 with a $50 million budget approved by Congress, after the US military chose to move operations from Niamey, the nation's capitol. The budget has since swelled to over $100 million, and the runway is scheduled to be completed in 2018. Once complete, the base will be used to fly the MQ-9 Reaper drones, as well as much larger C-17 transport planes.
The MQ-9 Reaper is an unmanned aerial vehicle (UAV) capable of remotely controlled or autonomous flight operations, developed by General Atomics Aeronautical Systems, primarily for the United States Air Force. The Reaper is a larger, heavier, and more capable aircraft than the earlier MQ-1 Predator; it can be controlled by the same ground systems used to control MQ-1s. The Reaper has a 950-shaft-horsepower turboprop engine (compared to the Predator's 115 hp piston engine. The greater power allows the Reaper to carry 15 times more ordnance payload and cruise at about three times the speed of the MQ-1.
The Reaper drones have moved beyond the primary function of surveillance and have become known as "hunt and kill" weapons, capable of identifying targets and eliminating them.
This slideshow requires JavaScript.
Drones from the US Air Base 201 would effectively be able to cover most of West and Central Africa, targeting any group or person the US military deemed a threat to national security.
In April 2017, President Trump held a press conference to defend the use of a so-called MOAB bomb against the Islamic State in Afghanistan. He said, "What I do is I authorize my military. We have the greatest military in the world, and they've done the job, as usual. We have given them total authorization, and that's what they're doing. Frankly, that's why they've been so successful lately. If you look at what's happened over the last eight weeks and compare that really to what has happened over the last eight years, you'll see there is a tremendous difference."
By the end of his Presidency, America's drone war escalated by a factor of 10 under the Obama administration, carrying out 563 separate strikes compared to Bush's previous 57 strikes.Now with new bases, more advanced drones, and a President more than happy to allow his military commanders to strike at will, with little to no oversight, the opportunity for abuse is at an all time high. Observers noted that President Trump's April press conference seemed to suggest he was abdicating authority of how and when to use force, to the military leaders on the ground.
The existence of US Air Base 201 was first reported on by The Intercept. Read it here.
SaveSave
SaveSave
SaveSave
SaveSave
SaveSave
SaveSaveSaveSave
SaveSave
SaveSaveSaveSave
SaveSave