It often feels like we have no control over the world around us. We are all just small cogs in a big machine. But occasionally, we are offered the chance to fight back. This is one man's journey to fight back the only way he knew how, armed only with a computer, a telephone, a talking robot and a sense a humor.
By David Todd McCarty | Monday, May 7, 2018
By his own admission, Roger Anderson is hardly your typical pirate. He doesn't have a patch, a peg leg, or even a talking parrot, but what he does have are a few dozen talking robots and a plan to disrupt an industry that is universally hated by nearly everyone: the persistent telemarketer.
"I'm a telecommunications guy," says Roger. "I've always been fascinated by the phone company. The history, the romance, the sheer ingenuity and mass of the American phone system is pretty extraordinary. It just breaks my heart to see what they're doing to it. No one even wants to answer the phone anymore."
Roger is the founder of the Jolly Roger Telephone Company, his ingenious response to the practices of what he considered an overly aggressive telemarketing industry that is ruining telecommunications.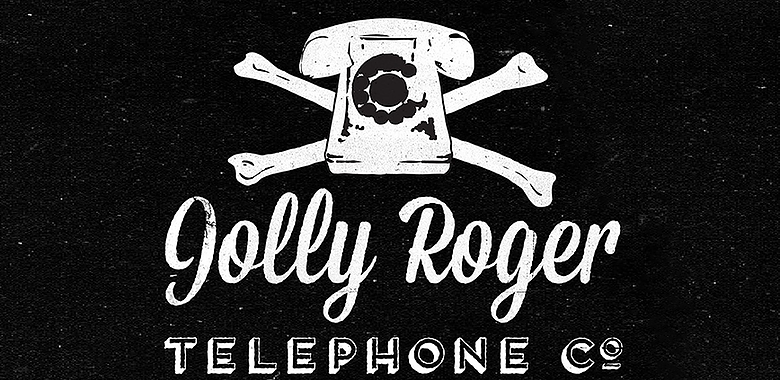 "I was just tired of all the calls, so one day I just handed the phone to my fourteen-year-old son and said, 'Here you talk to him.' He hung up almost immediately. I asked him what happened and he said, 'Dad, he said a bad word.' I thought to myself, 'I always considered telemarketers annoying, but why would you curse out my kid?'"
Roger realized that the callers just didn't care anymore. They were often calling from overseas call centers and it was a numbers game. The more people they called they better, and there was no time for being polite. Now Roger is an analytical guy, and being a telecommunications professional himself, he set about coming up with a way to combat the endless stream of calls.
"My first effort, was simply to route all my calls through a screener that required a human to follow a prompt to be allowed through," Roger says. "If it was a robocall, the system would assume it was an answering machine and they would just hang up and move on. The telemarketing calls stopped immediately, but I wasn't satisfied."
Roger realized that with today's technology, companies could make millions of calls per day for practically nothing, and the cost of the phone call itself was almost negligible. The real cost for these telemarketing companies were the people trying to sell you whatever it was they were peddling. If he wanted to disrupt their process, he needed to keep them on the phone as long as possible, wasting their time and keeping them from calling anyone else.
"I think of it as my civic duty," says Roger. "If they're tied up talking to me, they aren't bothering you."
But it wasn't practical to talk to them all, so he went about creating a system that would keep the telemarketer engaged for as long as possible. The robocall systems are set up so that they use a computer to automatically dial numbers and if they detect a human voice, they transfer the call to an actual telemarketer to complete the call. The first thing Roger needed to do was to get his robot to fool their robot into letting them through.
He started by creating a recording of himself answering the phone. Nothing terribly complicated. Just a few hellos. This was enough the get him to a real person. The next step was a little more complicated in that it required him to create a robot that could fool a real person into thinking his robot was also real.
As nearly everyone with a phone can attest, 2017 saw a significant jump in live telemarketing and robo calls. According to a report by the Federal Trade Commission, the department that created the Do Not Call list in 2008, there were a number of factors.
Advancements in technology increased the number of illegal telemarketing calls. For example, Voice Over Internet Protocol (VoIP) technology allowed callers, including law-breakers, to make higher volumes of calls inexpensively from anywhere in the world.
Technological developments also allowed illegal telemarketers to easily fake the caller ID information that accompanied their calls, which allowed them to conceal their identity from consumers and law enforcement. In 2017, reports of "neighborhood" caller ID spoofing, where the caller displays a caller ID number with the same area code and exchange as the called party, also increased.
Furthermore, many telemarketers used automated dialing technology to make calls that delivered prerecorded messages (commonly referred to as "robocalls"), which allowed violators to make very high volumes of illegal calls without significant expense.
The net effect of these technological developments was that individuals and companies who did not care about complying with the Registry or other telemarketing laws were able to make more illegal telemarketing calls cheaply and in a manner that made it difficult for the FTC and other law enforcement agencies to find them.
As a result, consumer complaints about illegal calls—especially robocalls— increased significantly. In the fourth quarter of 2009, the FTC received approximately 63,000 complaints about illegal robocalls each month. That number has more than quintupled—in 2017, the FTC received an average of more than 375,000 robocall complaints per month. In the year since August 1, 2016, the Federal Communications Commission, which also regulates telemarketing and robocalls, received nearly 185,000 complaints about calls that consumers did not want. [1]
Roger wasn't about to take this lying down, so he struck out on the high seas with a goal of beating these telemarketing bandits at their own game.
With the addition of some voice recognition software, a little creative writing, and some trial and error, Roger was able to create recordings that could be fed to a live caller, giving them enough information to believe they were speaking to a human being, even if the answers to their questions were often nonsensical. This would not only keep them on the phone, it resulted in some fairly comical responses.
"I'm not a particularly funny guy, so pranking these telemarketers wasn't my goal," says Roger. "But I would record these calls and often the responses were very funny."
In February of 2016, Roger decided to post his first video, of one of his early robots interacting with a live telemarketer. He was able to keep her on the phone for over 10 minutes. In fact, Roger says that eventually the robot ran out of things to say and just hung up. You can listen here:
It wasn't long before his videos caught the attention of someone at Gizmodo, and after they did a story on his company, things sort of went viral.
Today, the Jolly Roger Telephone Company, which Roger runs out of his home, has 20 different robots that range from a guy who won't stop talking about a bee, to a woman who's kids are driving her crazy. Once you've set up your account, when a telemarketer calls you, you add one of Jolly Roger's robots on the line, then sit back and enjoy. Once the call is over, they send you an email with the audio recording of the call. As their website says, "Our robots talk to telemarketers so that humans don't have to."
Roger only has anecdotal evidence about how affective his robots have been, but he does get the occasional call where a supervisor realizes what's going on and explains it to the telemarketer. But the real fun comes from the callers who get angry and curse out the robots. Some, it would appear, are even on the lookout for him.
The hope of course, is that enough people use the Jolly Roger service, that the telemarketers become incentivized to remove the phone numbers from their database to avoid the costly, but useless, interactions.
You might not be able to stop the calls, but at least you can have some fun at their expense. Some days, that's all we have.
You can listen to a whole selection of calls on the Jolly Roger Telephone Company's YouTube page.
To see Roger give a Ted Talk about how he got started, watch below:
David Todd McCarty is a writer, director, photographer and journalist. You can follow him on twitter @davidtmccarty.
SaveSave