There was a time when the Republican Party could be relied on to be staunchly conservative, if not always consistently in reality, at least generally in principle. They believed in traditional moral values, a free market economy with little regulation, a small federal government, low taxes and a strong global presence backed by a dominant military force.
By David Todd McCarty | Thursday, May 31, 2018
Part of the problem with 20th Century conservatism is that for the most part, it didn't turn out to work all that well. From Reagan's trickle down economics with a belief that lowering taxes would spur growth, to the idea that you could rule the world, let alone an enormous country, with a small federal government. Little by little conservatives turned away from their most cherished principles until we had a bloated government, soaring deficits, enormous spending, and failing infrastructure. The only thing conservatives have really been successful with is a growing military, even as we continue to flounder in several war zones. They even seem to be on the losing side of some of their biggest battles in the culture wars, with the settling of marriage equality and a massive demographic shift on religion.
But still, you had self-proclaimed conservatives such as Paul Ryan still espousing conservative economic theories and railing against the perceived liberalism of the Obama administration. Then Trump happened.
Since the rise of Donald J. Trump, conservative ideals, even basic lip service, has been thrown out the window in exchange for building and maintaining a power base. Trump is possibly the least conservative Republican to be elected to the Presidency in the last 100 years. Trump is a narcissist who has only ever dreamed of success through power and money. He's as populist, meaning only that he craves affection, so if taking a conservative stance will gain him favor, he's a conservative. He's also a contrarian, in that he's a bully bent on the destruction of anyone he felt slighted him. He's a coward in a position of power.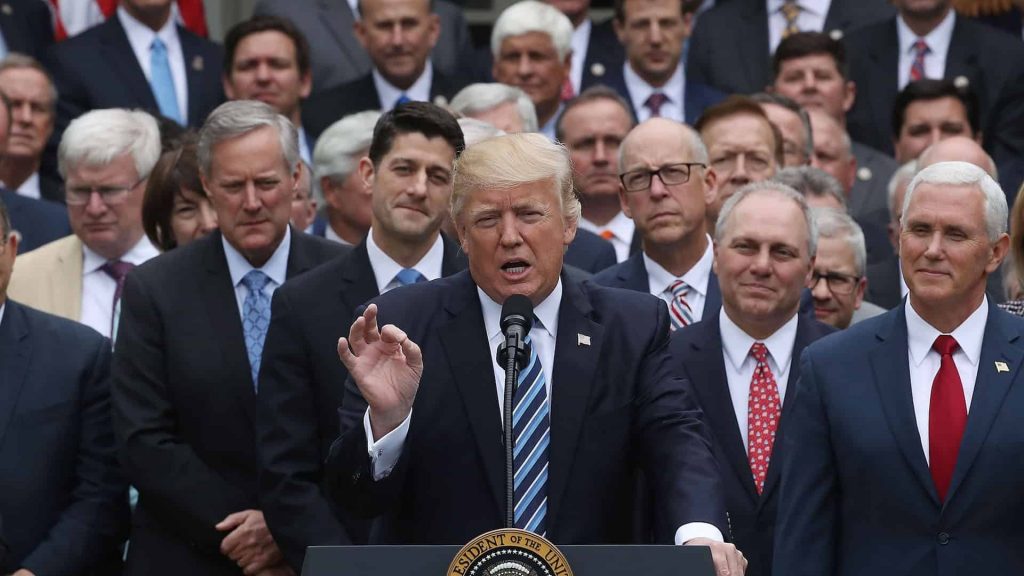 Donald Trump became President and the Republican Party lined up behind him because he became their ticket to power. Evangelicals lined up in support of Trump because he was their escape from inexorable irrelevance. Finally disaffected white people fell in to support a man who seemed to reassert their cultural dominance.
There was nowhere else for conservatives to go. They had no future. Now they had no party. All that remained was the Republican Party of Trump.
Conservative pundit, longtime critic of Obama and writer for the Washington Post wrote,
The Republican Party has become the caricature the left always said it was—the party of old white men. And that has become more so in the age of Donald Trump, when he is actively courting and stoking white resentment.
I remain a realistic conservative, a believer in America's ability and obligation to do good in the world; in the wonders of the free market — including free trade and legal immigration; in limited but energetic government (although not all centralized at the federal level); and in the rule of law and individual rights.
Republicans have permanently eliminated themselves from credibility to govern," Rubin said. "You can't be willing to sacrifice core American values for the sake of a tax cut and be deemed to be worthy of trust going forward.
Brian Stauffer, writing for Politco, wrote, "Both progressives and conservatives have [tend] to look backward to what they take to be America's 20th-century heyday; it's just they're stuck on different years. One party pines for 1965, with its strong post-World War II emphasis on regulated economic corporatism and liberalizing culture. The other is trapped in nostalgia for 1981 and the Reagan revolution of American self-confidence and liberalizing economy."
The Republican Party has become the caricature the left always said it was—the party of old white men.
Conservatives such as Rubin say they have no plans to go back to the Republican Party. They hope a new party rises from what they see are the ashes of their former party, or they hope enough moderate Democrats will join them as the party splits between establishment politics and the more liberal wing of Bernie Sanders.
There is no doubt we are in a period of flux. Despite all the hyperbolic predictions, most Americans are optimistic at heart and assume we will make it though somehow. The hero always wins eventually.
But there is no doubt that we will be changed and that Trump will have a profound effect on both parties.
If we are to remain a Republic, structured as we are, we won't survive with a single dominant party. Democrats can't afford for the Republican Party to be reduced to impotency, which is where they're headed in a world where white rural American becomes less and less relevant to a global economy. We need to two strong parties that argue and fight and ultimately meet somewhere in the middle. We don't need to all be on the same side. They say if you have two people in charge and they both agree, one of them is unnecessary. It's the basis of our government, even our criminal justice system and arguably our entire culture.
We need to get back to a place where we value a difference of ideas, and the ability to debate those ideas, but incorporate a respect for an multi-cultural approach.
This is the dream of America.
SaveSave
SaveSave