Stories from The Intercept
Ali Gharib Senior News Editor for The Intercept
There is a lot to digest in the media frenzy surrounding the "I-word," and yet there's so much left out. CNN ignored the members of Congress — including a number of women of color —who led the early charge for impeachment, and chose to instead lionize four white women, Natasha Lennard writes. And, in our moral outrage over Donald Trump's never-ending crime spree, let's not forget that he has takenkilling civilians in foreign conflicts to a new level, writes Murtaza Hussain.Trump tried to use a super-secret computer network to cover up his Ukraine call — and that's just one of many reasons for Congress toreform the government's farcical (over-)classification system, writes Trevor Timm. For background on Ukraine's internal politics, D.C. Bureau Chief Ryan Grim guest hosts Intercepted with auseful primer on the impeachment fight.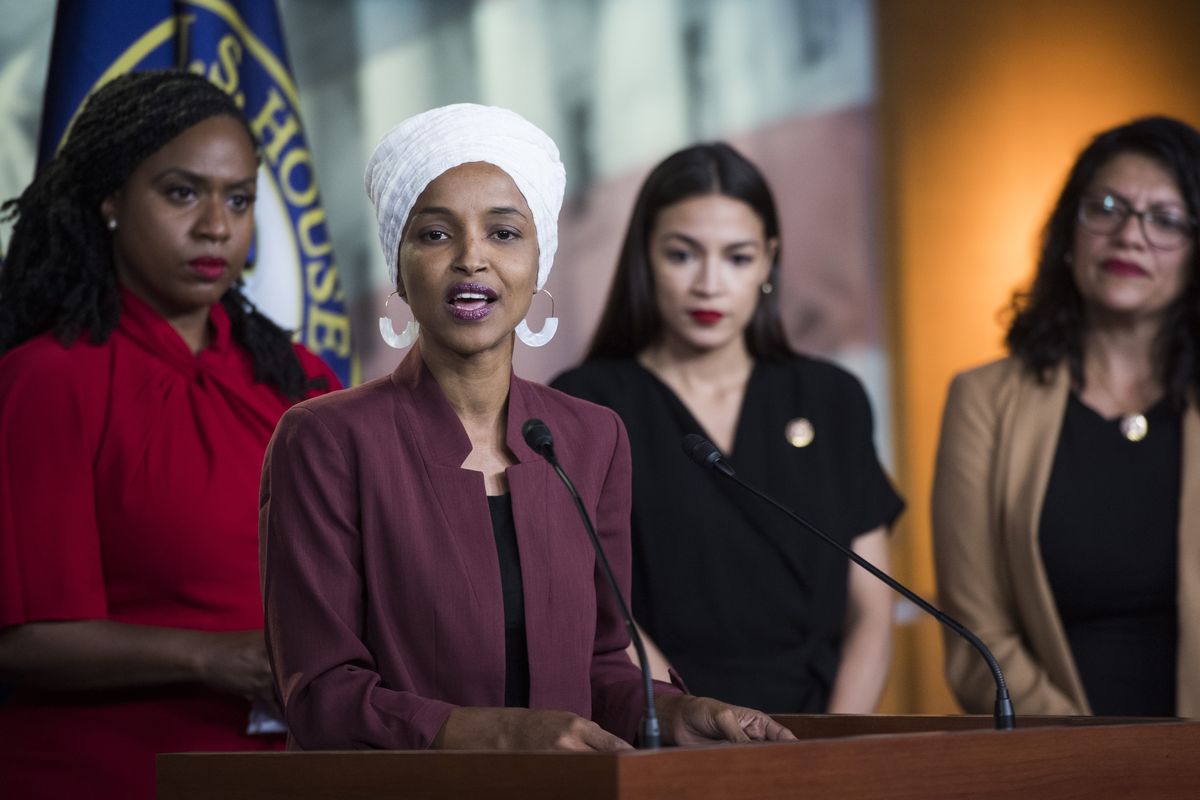 Trump Attacked the Women of Color Who Led the Push for Impeachment. Then CNN Erased Them.
Natasha Lennard for The Intercept | October 1 2019
Instead, CNN promoted a group of white women who came late to impeachment as crucial actors in the fight.
There is a growing double narrative about who deserves credit for the effort to impeach President Donald Trump. One side of the narrative, coming primarily from the media, lauds late-coming figures to impeachment as saviors, and the other, coming from Trump, tears down impeachment's early adopters as malicious traitors. Though the two campaigns are almost diametrically opposed, their effects are the same: to question the legitimacy and "seriousness" of leftists and women of color who have risen to leadership positions in our national politics.
First, the campaign to tear down women of color who support impeachment. Following the opening of a formal impeachment inquiry, Trump's reelection campaign poured money into a typically vicious, racist, and mendacious ad blitz. A barrage of Facebook ads, costing up to $1.4 million, claimed that impeachment efforts were the work of the "socialist squad" whose members had made "pro-terrorist remarks." On Saturday, Trump took to Twitter to decry the so-called Squad — Reps. Alexandria Ocasio-Cortez, D-N.Y., Ilhan Omar, D-Minn., Ayanna Pressley, D-Mass., and Rashida Tlaib, D-Mich., all women of color — as well as Jewish lawmakers Rep. Jerry Nadler, D-N.Y., and Adam Schiff, D-Calif., as "Democratic Savages" for their impeachment efforts.
The Trump campaign's anti-impeachment strategy is as obvious as it is dirty: Gin up conspiratorial resentment in his base by playing on racist and red-scare tropes. It's an intolerable narrative, but one that gets at least one thing right: The Squad, alongside a number of other progressive members of Congress, many of them people of color, do deserve the credit for pushing the House toward impeachment.
Civilian Deaths in U.S. Wars Are Skyrocketing Under Trump. It May Not Be Impeachable, but It's a Crime.
Murtaza Hussain for The Intercept | October 2 2019
There are so many reasons why Trump should be the object of our moral outrage, not least his role in the violent deaths of thousands of innocent people.
After nearly three years in office, President Donald Trump may have finally gone too far. His boneheaded attempt to enmesh another member of America's gilded class into legal trouble with the help of a foreign country has awakened the full moral outrage of his political rivals. They are out for blood and, at long last, they may get it. "The president must be held accountable," House Speaker Nancy Pelosi said in a stern address announcing an impeachment inquiry. "No one is above the law."There are so many reasons why Trump should be the object of our moral outrage, not least his role in the violent deaths of thousands of innocent people.
Anyone interested in the integrity of American democracy should welcome such accountability. And yet there are even more consequential reasons why Trump should be the object of our moral outrage. Not least among them are his central role in the violent deaths of thousands of innocent people.
Since his emergence as a political figure, Trump has promised that if he ever attained power, he would use the U.S. military to inflict a massive bloodletting on others, including noncombatants. Unlike other campaign promises, Trump has delivered on this one. Since taking office, he has presided over skyrocketing rates of civilian casualties in America's many foreign conflicts. Beneath the hue and cry of the impeachment announcement, more people are dying in wars that are being waged as Trump promised, with more brutality than ever.