Armed with a van, a dog, a lizard and passion for the environment, one woman is cleaning up her little part of the world, one piece of trash at a time.
By Jeremiah Schenerman | Monday, October 7, 2019
While many people have either returned to their lives far away from Cape May County, or are settling into their off-season schedules, one local activist, returned for one final visit in order to organize a trash clean-up effort.
Jillian Simons, a Villas native has taken her passion for direct action within her community on the road, with her non-profit organization 1 Piece Each. She is currently on a clean-up tour of the East Coast and began right here, first at Cape May Cove Beach, and then at Higbee Beach, the treasured nature preserve in Cape May, NJ.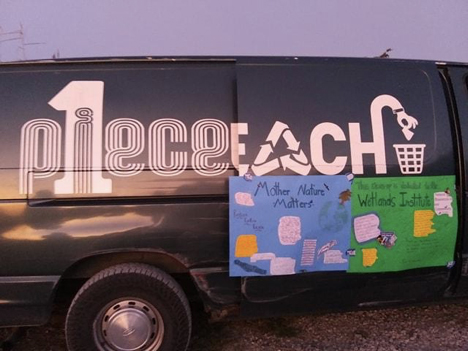 Last year, Simons purchased and converted a cargo van into her 1 Piece Each mobile campaign headquarters. With Trill the Dog, and Tony the Argentine Tegu, an oversized and overly friendly lizard, Simons travels the East Coast sponsoring clean-ups and spreading awareness for the mission behind 1 Piece Each, an organization that believes "If every person focuses on picking up one piece each, we can make a serious impact on the quality of our future as a whole."
Simons has hosted dozens of trash clean ups throughout the Carolinas, New Jersey and Florida. Along the way she's assisted hotels, and even an animal sanctuary which where she picked up Tony the lizard, in finding ways to reduce their environmental footprint.
On Simons' return trip home in September she organized a volunteer effort called "Beach Cleanup and Paddle Boarding" where she asked volunteers to help clean up the Higbee Beach nature trail and Bayfront area.
To prepare for cleanups, Simons visits local businesses asking them to help sponsor the volunteer effort. The Home Depot in Burleigh donated a stack of bright orange buckets and seven locally owned Cape May businesses offered a free product or service for filling a bucket with trash.
Magic Brain Cafe, Coffee Tyme, Out There Coffee and Ostara's Coffee House offered a free cup of coffee, Antojos Restaurant offered two scoops of ice cream and El Pueblo Taqueria offered a bowl of homemade chips and salsa. Riptide Paddles and Pedals was on site during the cleanup offering volunteers a paddleboard ride and lesson on the Delaware Bay.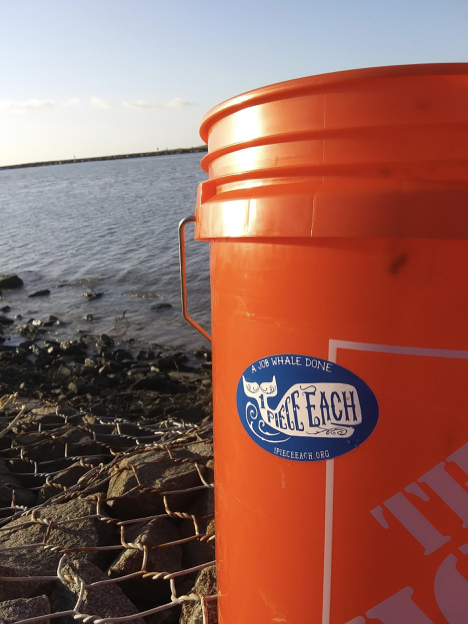 Over 20 volunteers showed up and collected a bucket or more of trash along the Higbee Beach nature trails and jetty area leading to the Bay. In all, 37 buckets were collected and removed.
"Last time I did a cleanup there was during my break home for the week," said Simons, explaining her hopeful outlook. "I took a bus home from Florida to surprise my family. It was around Easter and I only planned the cleanup for about a week and with 8 people, I think we did about 20 buckets. It's crazy how far it's come!"
Simons and the volunteers attribute the large amount of trash to the summer season and believe that overall, people are becoming more aware and responsible with their trash. Simons also raised $345.00 from volunteers and businesses that will be donated directly to The Wetlands Institute.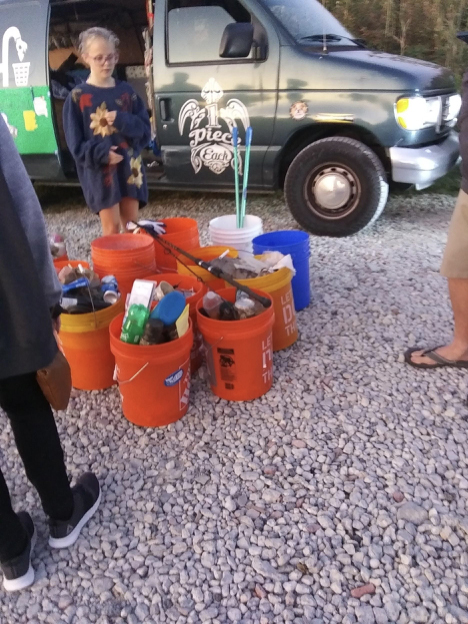 The Wetland Preservation Alliance commended her efforts in a public statement saying, "The Wetland Preservation Alliance commends the conscientious community volunteers for the Higbee Beach cleanup. Preserving the communities' natural resources for future generations of plants and wildlife is a Heritage priority everyone can appreciate."
More information about the Wetland Preservation Alliance and their efforts in Cape May County can be found on their website at wetlandpreservationalliance.com
Simons continues to share her adventure on Instagram @jilliansvanadventure and on her Facebook page @jilliansvanadventure. 1 Piece Each makes it easy to get involved and become an Ambassador like Simons through their website www.1pieceeach.org