Defenders of the President, including locally-elected Democrats, claim that Trump's actions don't rise to the level of impeachable offenses. Why they're wrong and why it's a problem for South Jersey.
By David Todd McCarty | Wednesday, October 23, 2019
David Todd McCary is the founder and editor-in-chief of The Standard. He is also a writer, director, photographer and cinematographer. He lives in Cape May Court House, NJ. He does not represent the Democratic Party, any public office, organization or entity in these matters. These are his personal opinions as a private citizen, and his alone.
---
Since the day he swore an oath to uphold and protect the Constitution, Donald J. Trump has flouted convention and the law itself by his actions and various abuses of office. From violating election law through payoffs and coverups, engaging in profiting personally from his office and violating the Constitution's rule against emoluments, and finally his blatant Obstruction of Justice and of Congress as they've attempted to investigate and hold accountable a President who believes he is above the law and not under any duty to follow the Constitution. He believes he is a king and has free rein to do whatever he pleases, unfettered by Congress or the law.
His most recent offense, which is not only morally and ethically beyond the pale, it was an unlawful act. The President attempted to use the power of his office, and the promise of nearly $400 million in Congressionally-approved military aid to an ally in return for an investigation into a political rival and proof of a debunked conspiracy theory concerning the 2016 election, all for personal political gain in the 2020 election. This is the smoking gun of quid quo pro fame that the President and his allies have been saying was missing the whole time.
As is his way, even though we watched him say he did it on live TV, saw the rough transcript of the call his White House released, read the whistleblower's report in detail, heard Acting Chief of Staff Mick Mulvaney admit it was a quid quo pro also on national television, read the depositions of multiple career diplomats testify that Trump himself held up the money in exchange for a public comment by the President of Ukraine Zelensky, that they would investigate the Bidens, Burisma and look into Ukrainian involvement in the hacking of the DNC server during the 2016 election—even after all that, Trump simply says he didn't do it. That there was no quid quo pro. That he didn't do anything wrong. That it was a perfect call.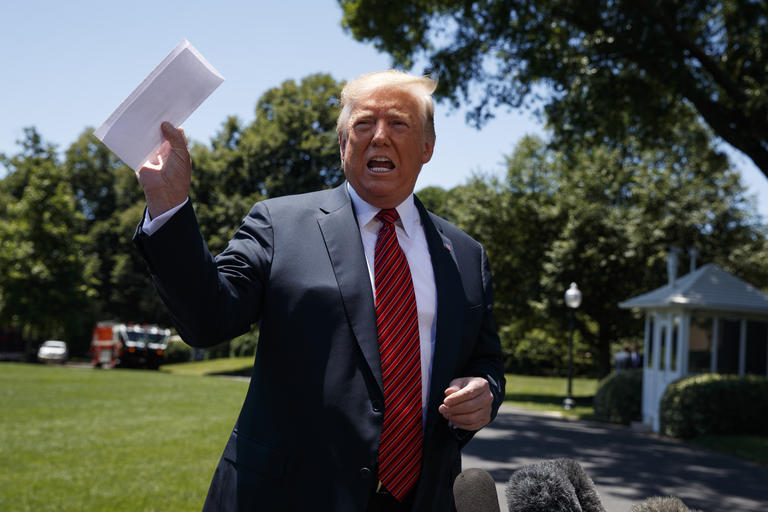 That is simply unabashed, criminal behavior.
Trump thinks he can just use the Jedi mind trick on the country and the world by saying, "This isn't the corruption you're looking for" and waving his little hand in the air before boarding his helicopter.
This isn't even unique to Trump as the GOP has been doing this for decades, but Trump has definitely perfected it because he is able to lie with a straight face and not even a soupçon of shame, then stick to his lie for as long as it suits him. The minute it doesn't, he attempts to change either the rules or the conversation.
If Republicans don't want you to call out their racism, they accuse you of being racist. If they don't want you to see how corrupt they are, they claim it's the Democrats who are corrupt. When they pretend to represent the working class, and then give massive tax cuts to the rich and attempt to cut aid to the poor, they blame immigrants for all our shortcomings. It's all a cheap con but they've done a good job at playing the long game.
If you're a Republican you think I just said all the things you've been told about the Democrats. That it's the Democrats who are attempting to use political judo to win a partisan fight. There's a lot of "what about _________" in your arguments, but rarely a defense of the actions of your party, or the actual results of your failed policies. There is never an admission of failure and you simply can't say that about Democrats. It's not because Republicans are always right, it's because they're intellectually dishonest and willfully ignorant to anything that doesn't comply with their predisposed worldview. It's no wonder they've turned their backs on science and anything resembling intellectual curiosity.
In South Jersey, where we have our very own enclave of Red-State Republicans, Trump supporters and all around Conservatives pretending to be Independents, it's important to look at how both Democrats and Republicans have responded to the scandal, and a scandal is what it is, no matter how hard they try to normalize the actions of this corrupt administration.
If you are elected to public office and have taken an oath to solemnly swear that you will faithfully execute the office for which you were elected, and will to the best of your ability, preserve, protect and defend the Constitution of the United States, and then fail to do just that because your political party, or your own position in office might be in jeopardy, then you have not only failed to uphold and defend the Constitution, you have put both party and career, above the people and this nation, and you will have failed us all.
Even if you believe that Donald Trump has gotten a raw deal from the media, and that they're always picking on him, and that it's really the Democrats who are corrupt with their degenerate pizza parlors and their paid crisis-actors, it should not be enough for you to look the other way and abandon American principles of democracy and the rule of law.
If you can't understand that if we dismantle our form of government for the benefit of one party, we all lose, because someday it will be you in the minority and this whole experiment in American democracy will end by collapsing on itself and devolving into pure authoritarian rule.
These things start small, but they metastasize quickly. It won't take long for it to get out of control.
We need to hold our government accountable in all forms and at all levels. If we can't count on our local and State Representatives to do their Constitutional duty, to be a check on the other levers of power, how can we count on a Federal government to be accountable to we the people?
It does matter what they say and how they respond. We have too many cowards in public office who exist only to maintain the trappings of power. When did they become more than mere public servants? When we allowed them to believe that it wasn't important for them to be honest or moral or ideological; that it was only important for them to win.
Freshman Congressman Jeff Van Drew has been able to maintain power in his time in the State Senate by working hard to be a Blue Dog Democrat, for a Red district, in a Blue state. It's a balancing act to be sure, and he's learned well, that in this era, you can't really get in trouble for what you don't say. It's why he doesn't speak in public very often, doesn't give a lot of interviews, or hold public town halls. He is not interested in your opinion, especially if you happen to disagree with him, and he's not comfortable with criticism. He votes cautiously and carefully, claiming to be independent when it suits him, staying out of it when he can, and engaging when it's politically inconsequential.
Van Drew has always kept a close team of candidates and hand-picked officials to campaign with and hold the line. He and the Norcross Democratic machine chose Bob Andrzejczak to take over his seat in the State Senate, and they were able to bring on Matt Milam to join Bruce Land in the Assembly. Andrzejczak has managed to avoid the impeachment fray by declining to get into it with Republican challenger Mike Testa, claiming that it's never something he would have to vote on in the State Senate, and in fact because it's not part of his job, but not because he thinks Trump is guilty or innocent. Everyone else in the world has an opinion. You couldn't be on any more solid footing right now than to be a Democrat who believes that an investigation is at the very least warranted.
But Team Van Drew/South Jersey are simply Republicans masquerading as Democrats and we all know it. They are pro-gun, anti-gay, pro-business, and pro-wealthy. They don't want to raise taxes and they want to cut services. They do not promote free speech, education, a social safety net, or common sense gun control. They simply want to be re-elected by Trump voters.
Even if you don't respect their ideological fluidity, you can understand their desire to win elections. The thing is, if win-at-all-costs becomes the guiding force behind America's domestic and foreign policy, let alone the cultural fabric of our society, what will be left to win?
We are at a real crisis in this country, and anyone does doesn't have their head stuck in the Fox News bubble must realize that this is a tipping point. We need to throw the lot of them out.
I suggest that all of Van Drew's Team South Jersey be tossed aside. That includes Andrzejczak, Milam and Land in 2019 and Van Drew in 2020. I honestly don't know some of the other candidates, but every time I see them at fundraisers together, with photo-ops and campaign ads, I have to wonder about where their allegiances lie.
Having a Democrat in name only does nothing to further a progressive agenda of change. It won't help us combat climate change or income inequality. It won't make our education system better or provide us with good jobs. It won't help America grow, embrace diversity, regain our stature around the world or heal racial tensions. It only allows those who would otherwise be against us, to hide amongst us and pretend to be our brothers. We're asking for progressive change, not regressive policies, and there is nothing radical about any of it. Just decent human rights.
It's time to put Country above Party. It's time to vote out each of these incumbents. The Democratic Party can handle the losses, because they can barely count on their votes as it is. We will concede these seats to Republican challengers until which time we can break the yoke of outside political forces that have corrupted the political processes of the Democratic Party in our district. We will raise new candidates up that believe in democrat ideals and we will work diligently to elect them.
Of course, if during that time, a candidate comes forward from the Left who can defeat them, we will obviously campaign for them, but to throw money at a candidate with no shot at winning is a waste of money and political capital.
It's time to put Country before Party.