State Senate Democratic spokesman Richard McGrath issued a statement alleging, without evidence, that Sue Altman, a vocal opponent of George Norcross, was part of a staged event, paid for by Governor Murphy and his supporters.
By David Todd McCarty | Saturday, December 7, 2019
It was supposed to be a simple hearing, before a friendly committee, to dispel any notion that Political power broker George Norcross had done anything improper with regards to billions in tax incentives that allegedly went to firms and organizations that he either has direct ties to, or that have ties to his various business associates.
Federal prosecutors in Philadelphia, as well as the FBI, have both opened investigations into whether or not there was any impropriety concerning the development boom in Camden, which was funded in large part, by $1.6 billion in tax breaks that the state's Economic Development Authority awarded to companies there since 2013.
According to the Philadelphia Inquirer, "New Jersey Attorney General Gurbir Grewal opened his review of the program earlier this year, after the state's comptroller identified "significant" oversight problems within the Economic Development Authority, the agency tasked with attracting and retaining businesses in New Jersey."
George Norcross, often called "the most powerful, unelected man in New Jersey" due to his political influence and close ties to Senate President Steve Sweeney, was set to testify before Senate Select Committee on Economic Growth Strategies in a public hearing.
Protestors critical of Mr. Norcross, and concerned about corruption within New Jersey politics, had shown up in force, many from Camden County, which is central to the tax incentive issue. Most were barred entry, ostensibly due to capacity, but the hearing room was already full of union members from other parts of the state, who had been bused in to show their support. One of the union members said they weren't even sure why they were there, according to one witness. There were a number of empty seats that had been reserved for unknown individuals, which can be seen on photographs and video of the hearing, although now one sat in them.
When some of the protestors in the back began making noise in reaction to testimony, Sen. Bob Smith, the committee chairman, ordered people standing in the back row to be removed, which is not unusual. They were there to make a statement of protest, and are typically asked to leave if they disrupt the proceedings.
This is when it got weird.
Sue Altman, the New Jersey State Director of the Working Families Party, a local activist group critical of George Norcross, was standing at the side of the room, texting on her phone and not causing any disturbance, according to multiple eye witnesses.
When Sen Smith asked the back row be removed, State Troopers immediately approached Altman, who was standing quietly on the side of the room, and told her she had to leave. She questioned why they were coming at her and refused to leave, saying she hadn't been doing anything wrong. They insisted she leave and ended up dragging her out of the room in full view of multiple reporters, photographers and video cameras.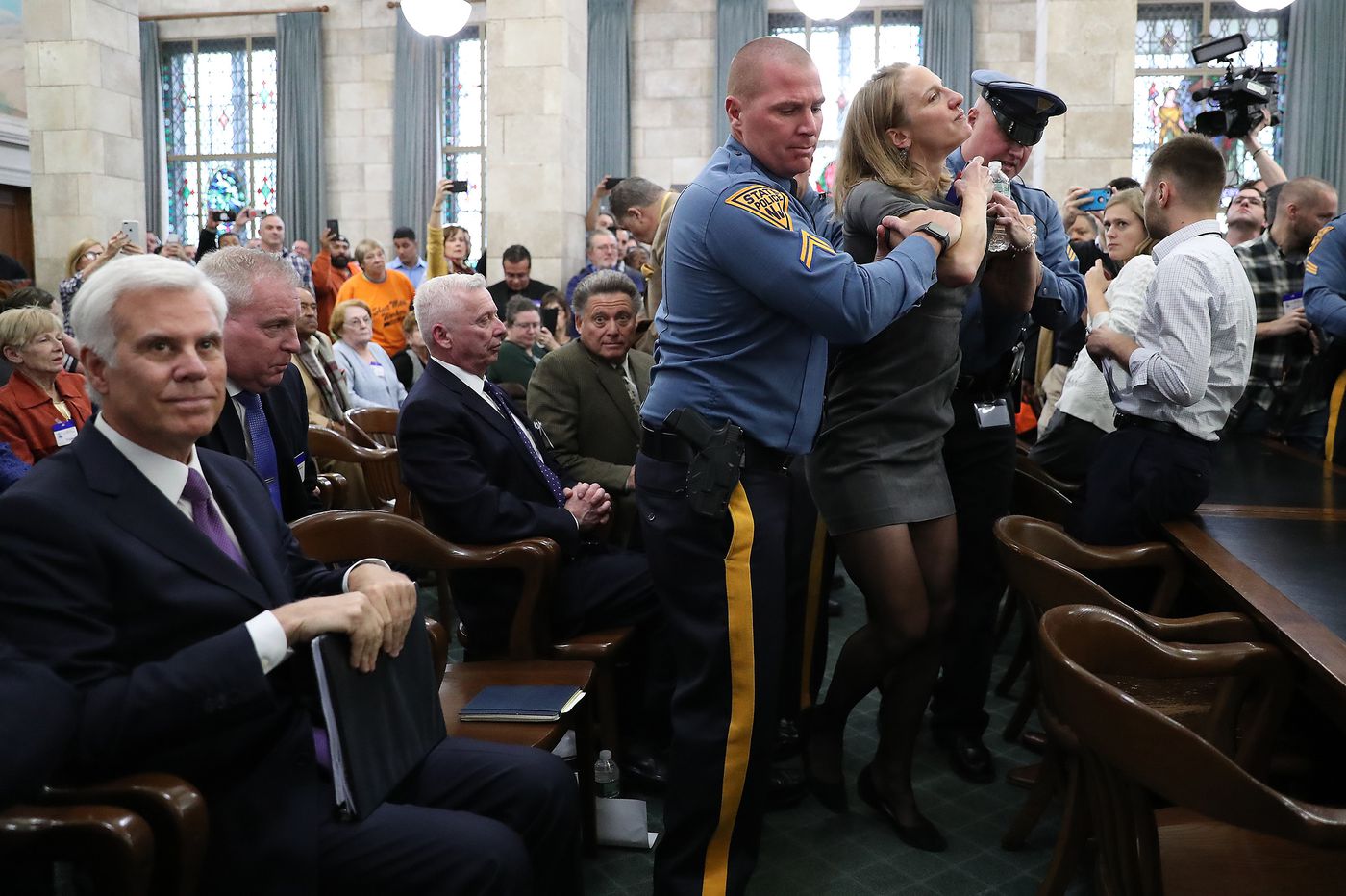 The incident quickly went viral on social media and was covered by the local press.
Richard McGrath, spokesman for the Democratic State Senate said in a statement, "Any unsubstantiated rumors or manufactured conspiracy theories by the Murphy paid protester or other allies of the administration are nothing more than irresponsible attempts to exploit the incident for self-serving political purposes."
McGrath is presumably referring to accusations by Altman that she was targeted by Sweeney to be removed, since there is no evidence that she was causing a disturbance and there was no reason why State Police would have targeted her unless otherwise told to do so.
Mr. McGrath went on to say in his statement, "The decision to have the protester removed was made solely by the State Police, who operate under the command of the Attorney General's Office and the Murphy Administration. They were both quick to comment on the incident, but they are refusing to be fully truthful by making public the review of the actions by the officers. If they fail to respect the request by Senate Majority Leader Loretta Weinberg to disclose the report's findings, we will use subpoena power to make it public."
"Senate President Sweeney is trying his best to discredit progressive activists. Which is a shame and fundamentally dishonest," said Altman. "What we are trying to do is create a stronger democracy in New Jersey, one that is responsive and accountable to the people of the state, not party bosses and power brokers."
The fact that a Democratic Senate President with close ties to George Norcross, the man who was set to testify about corruption in the New Jersey Tax Incentive program, removed a progressive Democratic activist seems highly unusual and begs the question of whether or not she was targeted.
Gov. Murphy called her removal "completely outrageous and unacceptable. And every senator on that committee owes her a direct apology."
"No one told the state police to get her and target her," Sweeney said Wednesday. "The governor is responsible for the state police and the Attorney General. It's his state police. If he thinks they went too far, then he should get to the bottom of it."
It's a strange dynamic that the Democratic Senate President and the Democratic Governor seem completely at odds with one another, as if they were members of opposite parties. The notion that George Norcross has an undue influence on party politics in New Jersey is the literal reason these protestors were there in the first place.
Senate President Sweeney blamed Ms. Altman for the whole incident, saying, "I'm disappointed the way it happened. But she'd planned to be arrested, she even said that."
He was referring to a tweet that Ms. Altman had made moments earlier, saying that she "[hadn't] been arrested, yet."
"It was a joke in response to a tweet before it," Altman responded. "I admit that we wanted to be noisy, and told reporters they could look for disruption. … If the Working Families Party had a plan to get arrested, it'd be far more spectacular and civil disobedience-y."
"She got the attention she wanted," said Senate President Steve Sweeney.
Mr. McGrath ended his statement by saying, ""We should not allow the continuing attempts to inflame controversy to distract attention from the Legislature's policy goals, which cover an array of issues that have an impact on the lives of the people of New Jersey, including important social justice reforms. The Governor and his allies would be bette served at making actual progress on a policy agenda if they put their focus on the issues of concern to the residents of New Jersey."
A spokesman for the State Senate said they will subpoena the internal State Police concerning their investigation into the removal of Sue Altman from the Senate committee hearing if the Attorney General's office refuses to publicly disclose the report's findings.
Working Families Party National Communications Director Rob Duffey supported the idea of releasing the report to the public.
"We support the public release of the investigation into Sue Altman's forcible removal from the Senate's Norcross hearing on Nov. 8," said Duffey. "We trust the investigation will cover not only Sue's removal, but the Senate's efforts to keep anti-Norcross Camden citizens out of the committee room before it began; the Senate's decision to selectively allow pro-Norcross audience members into the room; the jeers of 'lock her up' from Norcross supporters towards Sue before the hearings even began; Chairman Smith's clear expression of having supervisory control over the troopers; and the decision of the Senate not to place George Norcross under oath."
Sweeney has called Altman a "paid protestor" and inferred that she works directly for Gov. Phil Murphy, who he has opposed on many measures across the board. This is in reference to accusations that the New Jersey Working Families Party received funding from a pro- Murphy advocacy group called New Direction New Jersey.
According to their statement, "The Working Families Party is a grassroots political organization that recruits, trains, and elects the next generation of progressive leaders. Its New Jersey affiliate, New Jersey Working Families, has been at the forefront of the fight for a more responsive and accountable state government."
"Instead of throwing around Trumpian epithets like 'paid protester,'" remarked Duffey. "Senate President Sweeney needs to look in the mirror and listen to the cries of non-partisan advocates and reformers who correctly believe his Chamber is broken, consistently placing special interests over the public interest. We agree – we will not let this incident distract us from Steve Sweeney's agenda to expand corporate welfare, gerrymander legislative districts, protect the State's millionaires and billionaires, and help George Norcross hijack the Democratic State committee."
"Once you see how Trenton works you can't unsee it," said Altman, "and the incident in the statehouse laid bare the thuggish power dynamics present in our state politics. That is why progressives are springing into action and are not going away.""
Attorney General Gurbir Grewal's office issued a statement saying it planned to "discuss with Chairman Smith his decision to direct state troopers to remove individuals from the hearing room. As with any allegation involving the conduct of state troopers, the New Jersey State Police will review the matter."
It's somewhat ironic that this incident has raised, not only the profile of Ms. Altman and her organization, but has shined an even brighter light on the many issues that surround George Norcross and his relationship to Senate President Sweeney.
Ms. Altman has become a hero to many progressive groups across the state who are frustrated by the hold Norcross has on politics, especially in South Jersey. Several progressive Democratic groups have sprung up in the past few years, including groups such as South Jersey Women for Progressive Change, and Indivisible.
More recently, a group that calls themselves the Real Democrats, has been working to build grassroots support to challenge freshman Congressman Jeff Van Drew (NJ-D) in the primary for New Jersey's 2nd Congressional District (CD2).
Van Drew is one of only two Democrats in the House of Representatives that has said he won't vote to support Articles of Impeachment against President Trump. This move has angered many Democrats and there is a move to replace him in the primary. The fact that it's extremely rare for a party to primary their incumbent shows just how volatile party politics are in New Jersey.
"The treatment Sue Altman received at the statehouse made it clear that dissent would not be tolerated," said Lisa Bonanno of Real Democrats. "Sitting quietly on the sidelines is no longer a safe option for any of us. It will not be rewarded. We deserve to be heard."
It doesn't seem like this will be the last we hear from Altman and New Jersey's progressive Democrats.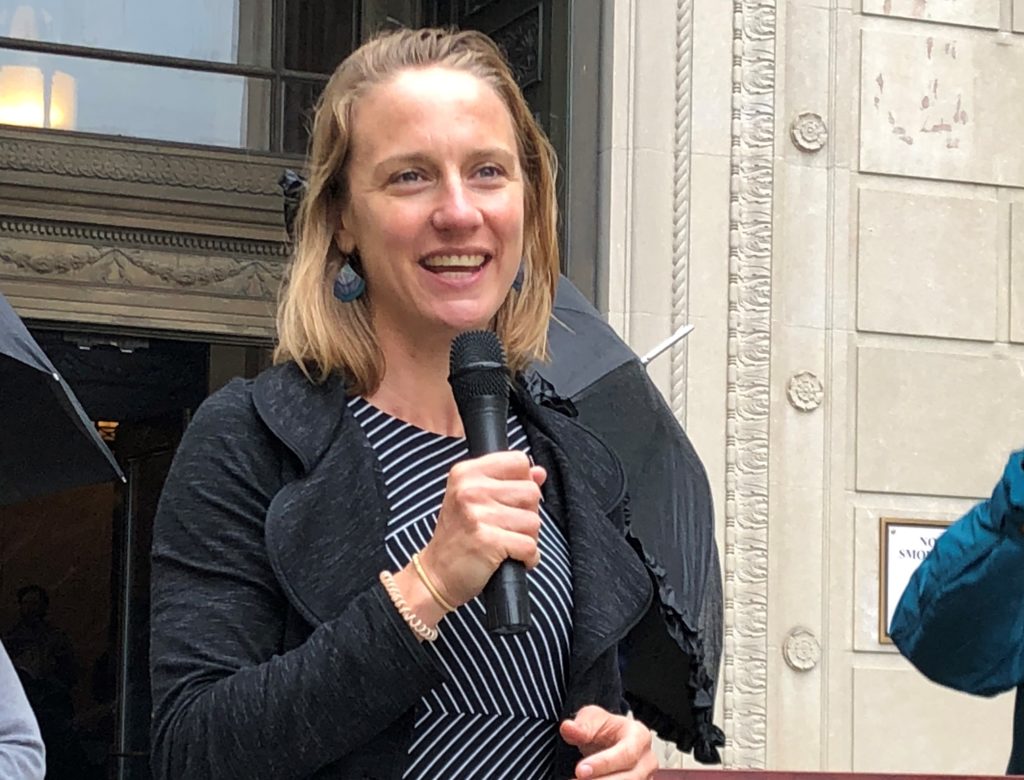 You can find these groups on Twitter at:
NJ Working Families @NJWFA
Cape May County Indivisible @cmcindivisible
Real Democrats @RealDemsofCD2