New Jersey has the opportunity to expand access for more people to drive legally, and it's not only an issue of economic and social equality, it is a serious public safety matter with a significant economic upside.
By David Todd McCarty | Monday, December 9, 2019
Access to transportation is one of the largest barriers to economic prosperity and stability for people of color in America, and yet the current system denies certain groups not only the right drive a car legally in New Jersey, but the very right to the American Dream.
Losing your license, even for a minor offense, or worse, due to unpaid fines for non-driving related offenses, can be catastrophic in America. The results are immediate, because due to an underfunded public transportation system, many people are unable to get to work, which of course leads to employment, hardships concerning childcare, domestic problems, and can ultimately lead to incarceration, homelessness and despair. That's not an overstatement or an oversimplification. It's a fact and it happens every single day in New Jersey.
Despite what many people believe, a driver's license is not a privilege in New Jersey. It's a critical component to participation in our economy. It gives you freedom of movement and access to everything from jobs to healthcare to education.
How do you get your kids to school or the doctor? Can they play sports? Can you get, and keep, a good job? Can you move? A license is not simply a way to get from point A to point B. It is access to the American Dream.
There have been calls for years from minority communities to improve access to a standard driver's license, and there is currently a bill circulating through the State Legislature that could finally make that happen. The bill (A4743/S3229) offers solutions to many of the obstacles that keep people from obtaining a proper driver's license in New Jersey; nearly all of which have to do with who can apply and the types of documents they need. These required qualifications extend far beyond the ability to safely drive and insure a motorized vehicle on our roads.
The State Assembly Judiciary Committee began a hearing on the bill this morning in a packed room. While the bill would have an immediate impact across the state to citizens of New Jersey, Republican legislators have focused on provisions for undocumented residents within the bill, claiming that giving immigrants legal status to drive amounts to rewarding them for lawlessness.
"We're opening this up to a million people," complained Assemblyman Erik Peterson (R-23). "It's overwhelmingly protective of people here illegally."
"This bill was not sponsored to reward lawlessness," countered Assemblyman Raj Mukherji (D-33). "That is already occurring. It is to ensure safety. This bill recognizes the inescapable reality that immigrants are already operating vehicles and it's dangerous. They are doing so without learning our laws, without paying fees for licenses, and with uninsured vehicles."
"This bill will represent a sea change in the lives of those impacted by it," said Assemblyman Gary Schaer (D-36). "It's fascinating that the U.S. Supreme Court ruled had the right to go to any pubic school in the town where they live. This bill represents an opportunity for those without the opportunity today. In my district this bill will have an incredible effect. This bill will effect those people in ways we can only imagine."
Creating more legal drivers is good for everyone in New Jersey. It seems impossible to argue against this simple fact, without resorting to twisted ideological arguments concerning class, race and immigration status. From a simple public safety measure, allowing an estimated 720,000 more people to become legal drivers ensures that more drivers are trained, insured and accountable for their driving record.
Motor Vehicle Commissioner Sue Fulton testified in favor of the legislation. She estimated there are hundreds of thousands of people driving without a license and the measure would ensure they know safety rules and are ensured.
From an economic standpoint, allowing more people to become legal drivers in New Jersey has the potential to increase state revenue by nearly $20 million from fees alone, not to mention the estimated $223 million in new insurance premiums to the economy. But that's a fraction of the potential economic boom to the economy by allowing more people to successfully participate in the broader economy in the form of gainful employment and access to education and training, which also has the potential to relieve stress on the state's social services.
The bill before the legislature would allow for two kinds of licenses to be issued. The first would be a REAL-ID, which would be compliant with federal standards and could be used to fly domestically and enter federal buildings. The current New Jersey license is not compliant with federal REAL-ID standards, but will be beginning in 2019.
In 2005, the Congress passed and then-President George W. Bush signed the REAL-ID Act, legislation requiring driver's licenses and identification cards to meet certain requirements set by the federal government to control who could board an airplane and hence make the country "more secure." Specifically, the Real-ID Act calls for proof of legal presence in the United States and identity, a social security number, and state residency. The law also requires that applicants' personal data and documents be entered into a state government database that is accessible to the federal government. These requirements are similar to the six-point system New Jersey currently has with the exception of the requirement to retain or scan documents into a DMV database.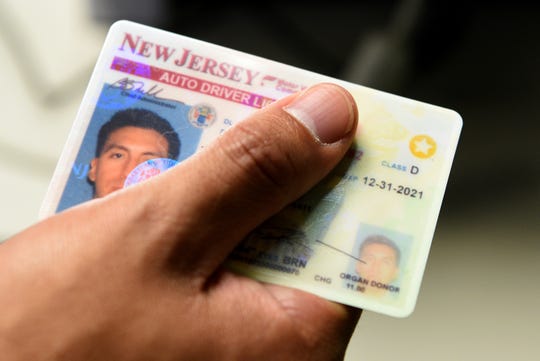 States are not required to have their driver's licenses and identification cards comply with the REAL ID Act, as there is no legal or financial punishment, but non-compliance will create a burden for residents of those states as they will need additional documentation, such as a passport, to fly domestically or enter federal buildings.
As of February 2019, 38 states are compliant, as well as Washington DC, Puerto Rico, and Guam. New Jersey is one of twelve states that is not compliant, and all twelve have received enforcement extensions into 2019 and 2020.
If New Jersey becomes REAL ID compliant without creating a standard license as an alternative option, many residents will be impacted by this change. The federal REAL ID Act's requirements will make driver's licenses out of reach for many, including undocumented immigrants, individuals earning less than $25,000 a year, and people reentering society from prison.
To ensure these residents, who may not have the funds and necessary documentation for a REAL ID, are able to legally drive and fully participate in society, New Jersey must create an alternative license. This is the only way to ensure that all New Jersey residents can continue to have access to a driver's license and be able to protect their privacy.
The new bill would ensure New Jersey is compliant with the REAL ID Act while also creating an alternative standard license. Creating an alternative standard license would benefit the following people:
Citizens who do not want their information stored in a federal data system
Those who do not need a license to travel domestically Certain senior citizens
Survivors of domestic violence who are unable to retrieve all their documents
Formerly incarcerated individuals
Low-income individuals and families
Transgender people whose documents may not accurately match their gender identity
Immigrants, including undocumented immigrants
Both citizens and non-citizens who have lost essential documents and have not yet obtained replacements because of cost or administrative delay
Since 2005, 12 States and the District of Colombia have allowed all residents, regardless of legal status, to obtain a driver's license. They are Utah, Illinois, Maryland, Nevada, Vermont, DC, Colorado, California, Connecticut, Delaware, Hawaii, New Mexico, and Washington.
One study by the Roger Williams University School of Law found that states providing driver's licenses have fewer traffic fatality rates on average and lower average costs for auto insurance. Also, poverty rates tend to decline at a faster rate in states that provide driver's licenses for undocumented immigrants, the study found.
A AAA Foundation report found that unlicensed drivers were 19 percent more likely to be involved in a fatal car crash. "The completion of driver's education and passing of a driving test would ensure that all drivers on the roads are aware of the driving rules and laws of the road, thereby making it safer for all to drive," the report states.
In a study published in the Proceedings of the National Academy of Sciences of the United States of America found that once licensed, undocumented immigrants were less likely to flee the scene of an accident. In California, for example, allowing all residents to drive regardless of status led to a significant decline in hit-and-run accidents. The researchers at Stanford University who published these findings suggest that licensed undocumented drivers have weaker incentives to flee because they are less likely to fear deportation.
"This bill is not just about affording dignity to New Jersey's immigrant families, even though it does that, and it's not just because states much redder than ours have already done this," said Mukherji. "Fundamentally this bill is about public safety."
The Assembly Judiciary Committee is holding a hearing on the bill today, and the Senate Transportation Committee plans to hold a hearing on Dec. 12. A vote is scheduled for the full Senate on Dec. 16, according to Richard McGrath, a spokesman for Senate President Steve Sweeney.