With an endless stream of social media outrage, a 24-hour media cycle, and endless partisan bickering, what is the value of public protests in an era of divisive politics? Organizer Elizabeth Volz provides some insight.
By David Todd McCarty | Friday, December 13, 2019
They say most of us live in an echo chamber of our own choosing, and that despite our best efforts, we are often just preaching to the choir. We are so divided as a country, that the middle ground is a deep chasm with no bridge. That so little of what we do has an effect on public policy. So what value does political activism have, if any, outside of our own tribe?
Elizabeth Volz, founder of United Progressive Democrats, has been organizing for three decades and has seen it all. She says she's been protesting and organizing, "arguably since I was 12" but didn't lead an organization until 1987, her second year of college.
"It's like herding cats," she says. "It's often a lot of chefs and not a lot of dishwashers. But you have to remember to listen to everyone, to provide direction, and ultimately to value each person's contribution."
Volz and her organization led a recent protest in front of freshman Congressman Jeff Van Drew's (NJ-D) office to urge him to vote for Articles of Impeachment against President Trump. There was plenty of criticism on social media, questioning the value of a small protest at a nondescript Congressional office in South Jersey, when the Congressman wasn't even there, and wouldn't likely have been moved to change his mind even if he were.
"Our protest was directed towards the people in the district," said Volz. "They elected a Democrat assuming that Van Drew would hold President Trump accountable, as the oath he took dictates, and the Congressman has failed to do so. The fact that he wasn't in his office to witness the protest doesn't diminish its effect. That's missing the point entirely. It wasn't for him to see. It was for his constituents to see."
The protest ended up as a front page story in the Press of Atlantic City, the fourth-largest daily newspaper in New Jersey, with over 100,000 readers, not to mention the social media reach it garnered.
"There are two goals when it comes to organizing a protest," says Volz. "One, to put out a message to the community. To give voters information in a way that they might not otherwise have an opportunity to hear. And two, to give individual people a voice—a way to fight."
Volz said she believes that there is real danger in assuming that certain types of activism are superior to others. That public protests are better than writing letters. That shouting at the opposition is better than having a quiet conversation with a neighbor.
She cites the women's movement as a prime example of many different issues affecting many different kinds of women, and all were necessary to gain traction and success. She believes it's the same with progressives.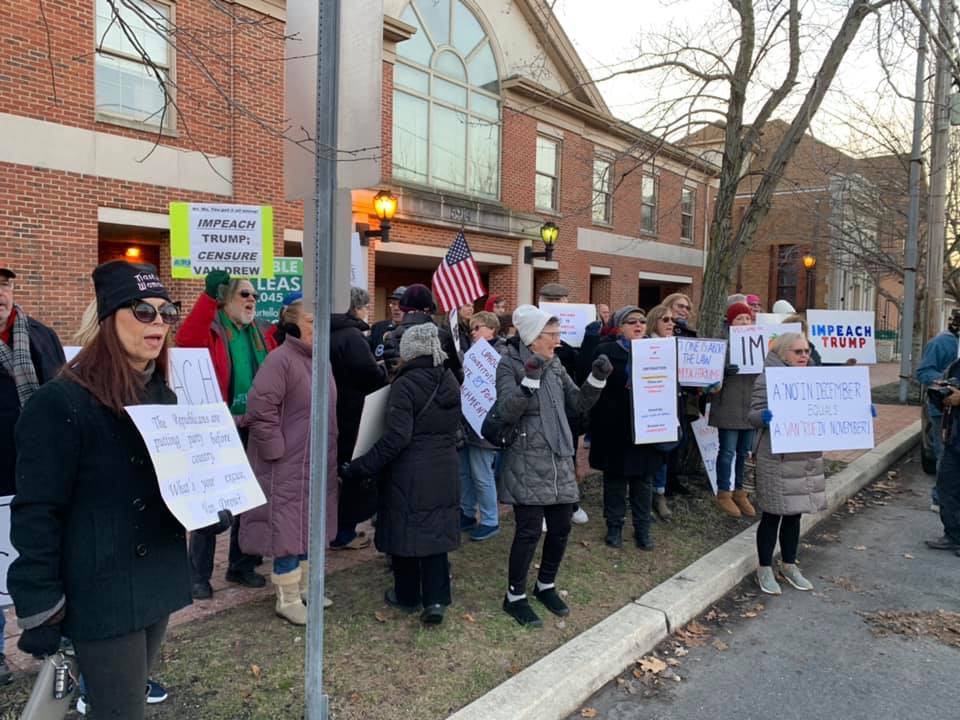 "The Democratic Party should be a place for everyone," she says. "Everyone has value, but not everyone is comfortable or qualified at every aspect. We need people who can write impactful letters, make fistfuls of phone calls, knock on doors, win over strangers, and yes even show up on a moment's notice with a trunk full of protest signs. It's nearly impossible to find passionate people who are interested or willing to do it all. You have to divide and conquer. We need to capitalize on everyone's strengths."
There has been a lot of discussion within the party and throughout the political elite, about how the Left needs to be more effective at organizing such a wide-ranging coalition of groups, into a single strategy.
The recent Brexit campaign and election has been noted as a warning to Democrats unable to pick a single issue to fight on. Boris Johnson, who it appears has just won the largest Conservative majority since Margaret Thatcher ran on a three word campaign of "Get Brexit Done." His opposition was Jeremy Corbyn, the Labour Party candidate, who ran on a complicated platform of traditional leftist policies from increasing social services and higher taxes on the rich, to free education and better healthcare. Get Brexit Done was the clear winner in the campaign, but history will judge if the United Kingdom comes out ahead.
Republicans in America, also tend to be a more monolithic culture, comfortable with simple messaging and happy to tow the party line, while Democrats struggle with this. Republicans respond to "lock her up" and "build the wall" while Democrats are used to having more nuanced debates about policy.
"What you have to understand is that critical thinking is part of our value system," says Volz. "These are curious, thoughtful, empathetic people. If you give them direction, their first question is why? It's not enough to be given direction. They need to not only know why they're doing it, they have to believe in it both intellectually and emotionally."
That is the strength behind progressive organizations she explains. They are thinkers. They don't necessarily wait for instruction. If they have a goal, they will find a way to achieve that goal, with or without supervision or guidance.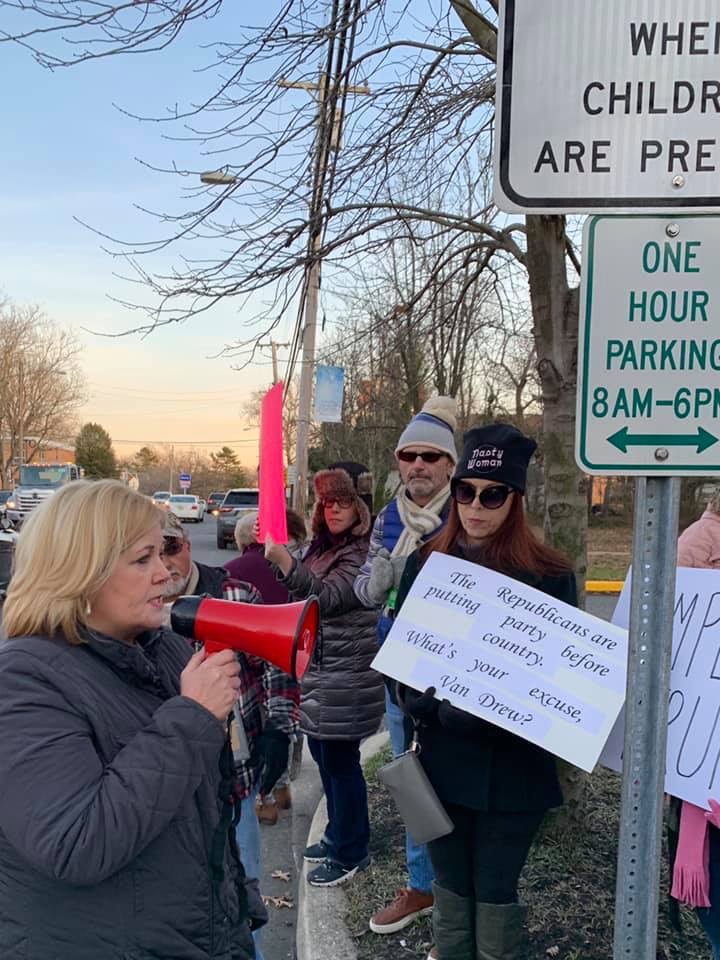 Mahatma Gandhi, the "father of India" as well as the inspiration for many modern protest movements since, was a great influence on people like Dr. Martin Luther King, Jr. What they developed were organizations that, while they may have been led by charismatic figures, were not entirely dependent on them to succeed. They operated independently while staying true to leadership.
"A nagging question," wrote Nathan Heller, "is how to get the people going when there's no Gandhi to lead the charge."
Volz goes back to her organizing history when she was helping to defend clinics from anti-abortion activists.
"These groups were set up like military campaigns," she explains, "with strict hierarchies that followed their leaders commands without question. They could be very effective in blockading clinics, but ultimately their goal was to get arrested. So we had to be more strategic and a little more creative."
She explained that over time, they learned that while the anti-abortion activists were more than willing to get arrested, without their leaders making decisions for them, they would sit and wait to be arrested, rather than changing their game in response to police action. Like sheep without a shepherd, they were incapable of reacting in real time, or thinking independently to achieve their goals. They only knew what they had been told. They didn't know how to improvise. So Volz and her group learned to direct the police to arrest the leaders first, and then everyone else went quietly.
"That's the strength of a progressive organization that is well-trained and well-informed," says Volz. "The activists don't need to be led to know what to do. They have a plan, and they can adapt that plan to fit their needs."
There is a trend towards decentralizing political movements. Providing structure, education and tools, and then letting people use their own personal strengths in order to achieve the desired results. With such a disparate group as the Democratic Party, with such a wide range of backgrounds, economic situations, personal histories, cultural differences, hopes, dreams, and immediate needs, there is a need for organizations that provide more support and less leadership.
"We need organizers willing to inspire, recruit, and educate people; to trust their instincts, respect their efforts, and give them the tools to fight," says Volz.
She believes that good policies that benefit a majority of Americans, will always be a winning combination, if only we can get people to listen. But Democrats have to be practical as well; not falling into the trap of utopian ideological fantasies that aren't achievable. Democrats need to be pragmatic and make the best choices given the options they have.
"It's how we will win."