The oldest living child of civil rights leader Martin Luther King, Jr will join Amy Kennedy and other Democratic Congressional candidates at the counter protest.
David Todd McCarty | January 25, 2020
Martin Luther King III, the oldest son and oldest living child of civil rights leader the Rev. Martin Luther King Jr., is expected to attend a planned counter demonstration of nearly 30 Democratic groups protesting President's Trump's visit to Wildwood, New Jersey, on Jan 28. The political campaign rally is taking place, in large part, in order for Trump to endorse Congressman Jeff Van Drew, who made national news when he defected from the Democratic Party over impeachment and pledged his "undying support" for the President in a televised Oval Office meeting.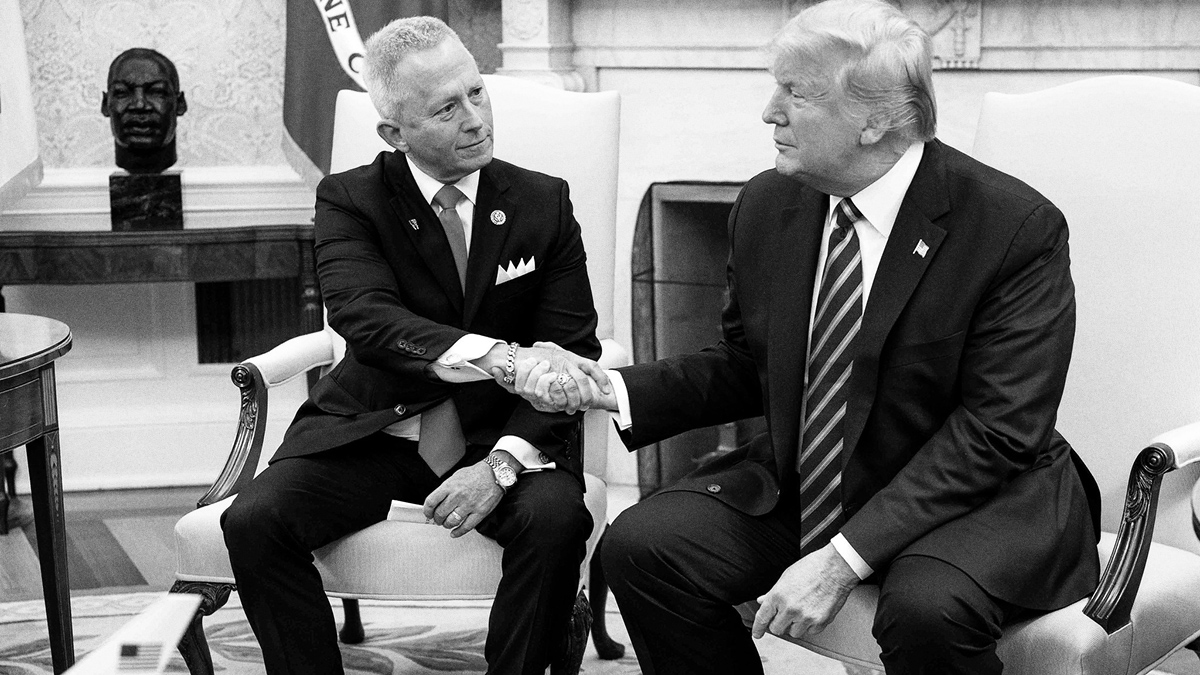 More than 10k people are expected to attend, even though the facility can only about 7,400 people. There have been unverified claims that more than 100,000 tickets were distributed, but the event is on a first come, first served basis.
King is scheduled to be the keynote speaker at a counter protest, at Bennett Avenue and the Boardwalk, and will be joined by Amy Kennedy, one of the candidates running for Van Drew's House seat in New Jersey's 2nd Congressional District in 2020. Kennedy is married to the son of the late Senator Ted Kennedy, retired Congressman Patrick Kennedy. Several other candidates and leaders are scheduled to speak, including Will Cunningham, Ashley Bennett, and Brigid Harrison, all Democratic primary challengers for the House seat. The protest is scheduled to go from 3-9pm, with the main speakers going on between 4:30-7pm.
"As we thought about the Trump rally and what we are hoping to put out there as the dialogue for our campaign … this is what we're missing — a call for unity, for civility, for human rights — and that is the antithesis of the current climate," Kennedy said. "So I really was excited when he agreed he would come up for this rally and represent what we all so need. He's not just coming for me, he's coming to be part of the day and hopefully inspire all the people there that there's another way, not hate and divisiveness, but about unity."
According to a press release by Cape May County Indivisible, one of the groups organizing the protest, the list of speakers includes:
Reverend Dawn Fortune, Pastor Willie Francois, NJEA President Marie Blistan, Working Families Director Sue Altman, CD-2 candidates Ashley Bennett, Amy Kennedy, Will Cunningham, and Brigid Harrison, and Sefi Schiller from Refuse Fascism Philly. There will be live performances by local band, "The Squares," spoken word poet LoReal "Elle Vintage" Chrisp, and music by DJ Brandon Smith of Music Stop.
The Trump rally is being held at the Wildwood Convention Center and Secret Service has cordoned off a larger area around the center which will be tightly controlled. The beach will be closed. Doors will open at 3pm. The rally itself will take place from 5-9pm, with President Trump scheduled to speak around 7pm.
Wildwood Police announced the following items are banned from being brought to the rally. Everything that is brought in must be Transportation Security Administration (TSA) compliant.
Any of these items that are found will be confiscated and not returned:
Aerosols and spray containers
Alcoholic beverages
Ammunition
Animals other than service/guide animals
Appliances
Backpacks, bags, roller bags, suitcases, and other bags larger than 12"x14"x5"
Balloons and balls
Banners, signs, and placards, and supports for signs/placards
Chairs
Coolers
E-cigarettes
Drones and other unmanned aircraft systems
Explosives of any kind, including fireworks
Glass, thermal, and metal containers
Laser lights and laser pointers
Mace and/or pepper spray
Noisemakers, such as air horns, whistles, drums, bullhorns, etc.
Packages
Poles, sticks, and selfie sticks
Recreational motorized mobility devices
Signs exceeding the size restrictions (20'x3'x ¼')
Tents and similar structures
Toy guns
Tripods
Umbrellas
Weapons of any kind, including firearms
Any other item that may pose a threat to the security of the event, as determined by, and at the discretion of, security screeners
Wildwood Police Chief Robert Regalbuto also "strongly urges" attendees outside and inside the rally to not bring any excess baggage, including backpacks, chairs or pets.
"When the President arrives in our city this Tuesday, the men and women of the Wildwood Police Department, along with our local, county, state and federal law enforcement partners, will be focused on our primary responsibility, which is to ensure the public safety of ALL who will participate in the rally," said Regalbuto.
"The Wildwood Police Department intends to provide a safe and peaceful opportunity for people to exercise their constitutional rights. As such, I must emphasize that criminal conduct by anyone, including property damage, will not be tolerated. Those individuals choosing to engage in such illegal behavior will be arrested, and we will work with our criminal justice agencies to ensure they are properly charged to the full extent of the law."
In January of 2017, King met with Trump at Trump Tower in New York and afterward told reporters, "Certainly he said that he is going to represent Americans. He's said that over and over again. We will continue to evaluate that."
WHERE: East Bennett & Ocean Aves.
(Bennett & the boardwalk)
WHEN: General protest 3:00-9:00pm
Main program with speakers 4:30-7:00pm