A glimpse into what protestors at the Trump Rally in Wildwood witnessed and endured at the hands of Trump supporters—in their own words.
By David Todd McCarty | Friday, January 31, 2020
To borrow a line from the late Maya Angelou, you might not remember everything they said, but you will always remember how they made you feel. That was the sentiment of many of the people who came to protest Trump and were met with open aggression, misogynistic slurs and a threat of violence that was sometimes subtle and sometimes not so.
Trump supporters are not a monolith and all cannot be put neatly into a single category or stereotype. They come from all walks of life, from all classes, from all races. Not everyone is a white nationalist, a bigot or a homophobe. But there is no doubt that Trump attracts a certain type of individual that feeds off contempt and enjoys the warm embrace of a mob. They might be the worst case scenario, but they are vocal and they are beloved by their leader, as he cheers them on and encourages them to confront anyone who doesn't pledge their unconditional loyalty to him.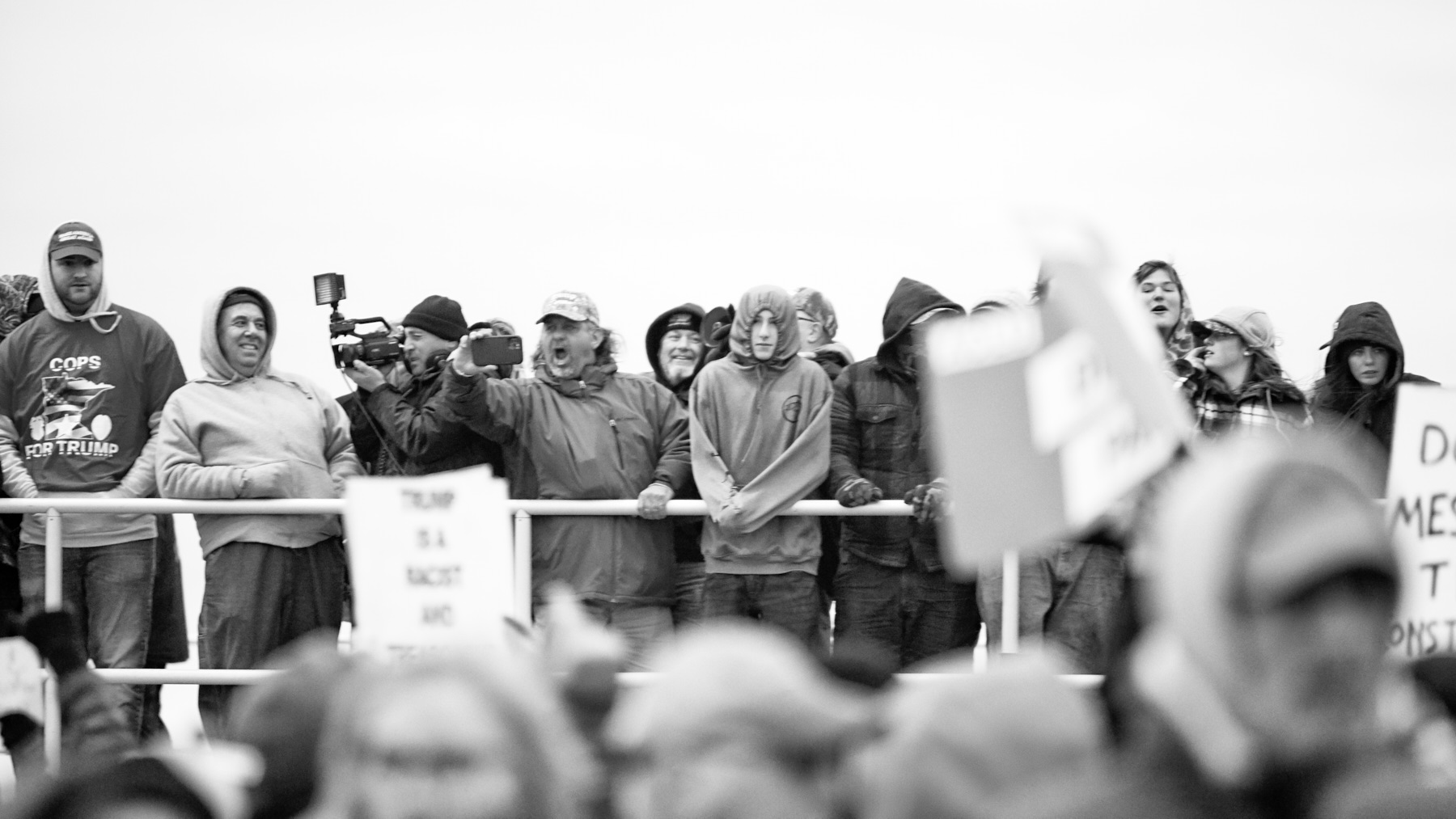 It's no mystery that many of the protesters there that day were women, people of color, or LGBTQ and that those groups have been historically attacked by angry white men. The fact that the police were so passive and seemingly indifferent towards those protesting the President, especially the groups most at risk from confrontation makes you ask yourself how many of those officers would have been at Trump's rally themselves if they hadn't had to work? How many were perturbed that they had to watch over the protestors, and not the Trump supporters?
Not everyone witnessed the same level of antagonization, shouted slurs and physical intimidation, but it was palpable in the air. The contempt for the protestors was on full display throughout the rally on Tuesday, and their naked aggression was unavoidable to anyone with the audacity to express their displeasure for their champion Donald J. Trump.
Here are their stories.
---
"Two of my friends and I were walking on the street together and walked by a group of men who were talking about Van Drew. None of us said a word or even looked at them. After we got by them, one shouted, "Those are the faces of the Democrats right there!!" He continued to shout as we walked away. It was unnerving to say the least. We are all in out late 60's."
— Sue Gibbs Randazzo
---
"I've been to my share of rallies and I've never encountered citizens like this. It's always felt safe to bring my kids. To wear what I wanted to wear. To hold a sign that said how I felt. But they even screamed at two ten-year-old children, telling them they should have been aborted."
— Kelly Salasin
---
"At 65, I've been to many a rally/protest, from my first equal rights for gays at 14. The record is good, every protest has been been validated by the changes in our society that exposed wrong and corrected with progress toward inclusion and equality. I was a peacekeeper at the Indivisible rally that was registering voters, introducing us to candidates, and exposing us to the unity and civility of MKL III. I stood for hours in front of vile, vulgar and obscene rants, chants and threats to keep our folks focused and not engaging with the hate. The haters had the high ground on the boardwalk, we were down below, with our 1st amendment rights trumped by theirs. For the first time it occurred to me that those spouting about their 2nd amendments rights, wishing us all manner of ill-will, could have been armed and we were sitting ducks. Peacekeepers would have been the first in line of fire. I asked some of the officers to come stand behind us on the perimeter, no was their answer. I asked that they maybe stand amongst the harassing mob to maybe calm them and the vitriol. Again, the answer was no. They said officers were among them, and I asked them to point them out. They may have been on the boardwalk behind the Trump people but they were not visible from below. When some of the Trump supporters infiltrated our rally, we escorted them out. The police did not. When the rail was climbed on by one person, I approached the officer to tell them to get down. They did not see or act until it was pointed out. In short, we were on our own. A peaceful rally was not afforded to us. Although we went blocks away, and did not attempt to harass President Trump's supporters, no one took our 1st Amendment rights seriously. Police stood in groups to the side, no security, metal detectors and little scrutiny of those entering the area. It was not easy keeping the smile on my face thinking the entire time that some person in the crowd above could easily have caused great harm. Even so, I think it is important that we continue to support the USA and our doctrine of democracy."
— Jacqueline Stauffer
---
"I did not personally observe any spitting. However, I do feel that the town of WW put us in a potentially dangerous situation by allowing the Trump supporters to stand above us on the boardwalk. It would have been relatively easy to close off that portion of the boardwalk railing. The boardwalk could have stayed open on the ocean railing side, but we would have had some protection with a some police tape and police officers keeping the Trumpsters at a distance from our peaceful protest. This is what it looked like to be there. We were definitely at a disadvantage."
— Janet Yunghans
---
"In our training as Peacekeepers we were told if a Trump person came into our permitted space we should ask him to leave. If he refused, we were to seek assistance from the police. The first time this happened I did just that. I approached a group of about 5 police officers and asked for their assistance to escort this fairly large guy out. I told them I wanted to keep everyone safe and that he was in the crowd taunting our people. They told me he was free to be there and without a crime they couldn't intervene. I told them we were instructed that the police's message to our leadership was the police would be available in situations like this. They repeated the guy was free to be in our space and they wouldn't assist without a crime taking place. Others in our group reported that some of the officers were helpful but I did not have this experience. Throughout the day I managed to escort several of these guy out of the area. BTW- I'm in my 60s and should not have had to take this on without police support."
— Ann Quinlan McCabe
---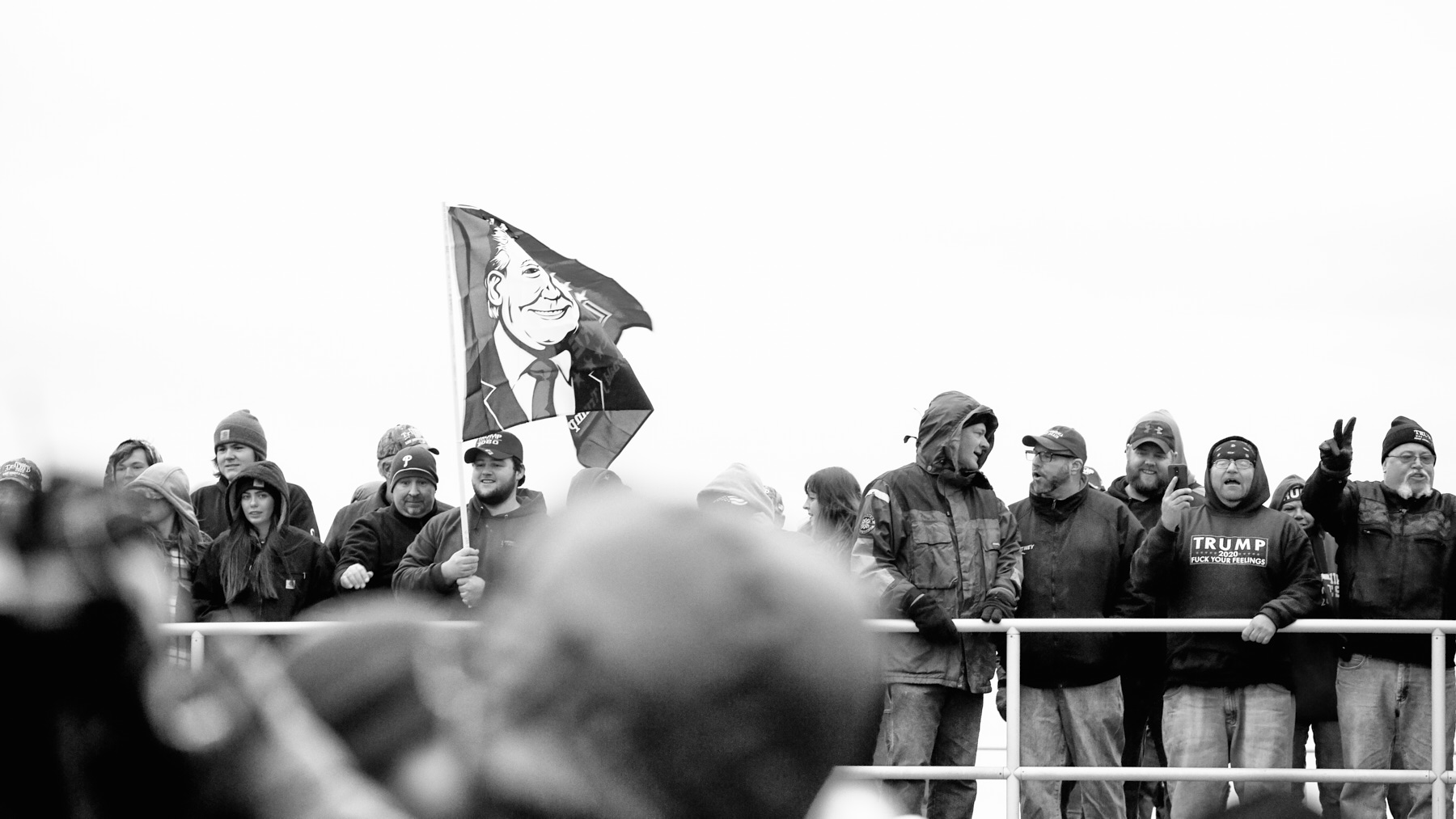 ---
"The fact that there was no attempt by authorities to keep trump supporters away from the part of the boardwalk overlooking our area was inexcusable! They could have roped off half the width of the board walk along our area to keep them further back if they need to keep part open so folks on the boardwalk could get to the restrooms nearby."
— Sam Costa
---
"I am still shaken and overwhelmed by my experience on Tuesday and appalled of the behavior that the police allowed on the railing above the protesters. I was genuinely afraid I would be stabbed by the time I left that evening. Yesterday, I went to the rally in Wildwood. A rally for the sitting president, a historic day for our region, and an opportunity for those of us that oppose current political decisions to legally and peacefully, protest our opinions.
"My experience was awful.
"I traveled with 2 other women; we would call ourselves middle-aged, but we are actually youngish, senior citizens. We are mothers, grandmothers, teachers, matriarchs, tax-paying, hard-working, passionate Americans.
"There was a fenced parking lot adjacent to the boardwalk, designated for the group of a few hundred protesters, located six blocks south of the Convention Center. There was a police presence. A large group of Trump supporters lined the railing on the boardwalk above us, chanting and shouting curses and indecent remarks, for hours. The news called it heckling…I don't think that quite describes what I saw and heard. We were cautioned not to go up to the boardwalk restrooms alone.
"Going to and from the fenced lot, walking on the public sidewalk, we encountered continuous negative attention. Mind you, I did wear an anti-trump patch on my back and a sign on my hat; my protest was small and quiet. We were far from the zone of the thousands of lined-up pro-Trump rally attendees, yet there was eye-rolling, sneering, and hand-gestures. People yelled obscenities from their vehicles. One man, across a busy street from me, jumped up and down, SCREAMING, that he knew a place, the landfill, were I should be put. A well- dressed couple walking behind me made derogatory motions as an oncoming man said, "…don't mind her, she's retarded…", followed by much raucous laughter. A young man/teen, spun around on the sidewalk to angrily spit derogatory remarks at us. A group of 4 or 5 brawny robust men, semi-encircled me, shoving their middle fingers within inches of my face bellowing "F**k you" over and over. I could've been their mother. I was ashamed for them and I was scared.
"Apparently having a rally ticket included a permit to spew hate, be obnoxious, ill-mannered and menacing. I, too, feel strongly about many issues, despairing over some, but it never occurred to me to shout obscenities, intimidate, or wish harm to other people.
"I guess I have been very naïve.
"You might say, if I can't take the backlash, I should've stayed home. Really? Why?
"Eighteen hours after leaving Wildwood, I am still feeling greatly disturbed by my experience. I don't think I will ever again easily walk among or be able to view with a truly open-mind my fellow citizens of the United States of America."
— Elizabeth Thompson
---
"In addition to being called cunts, and giving us the finger, there was a lot of crotch grabbing aimed in our direction."
— Allison Faith Morgan
---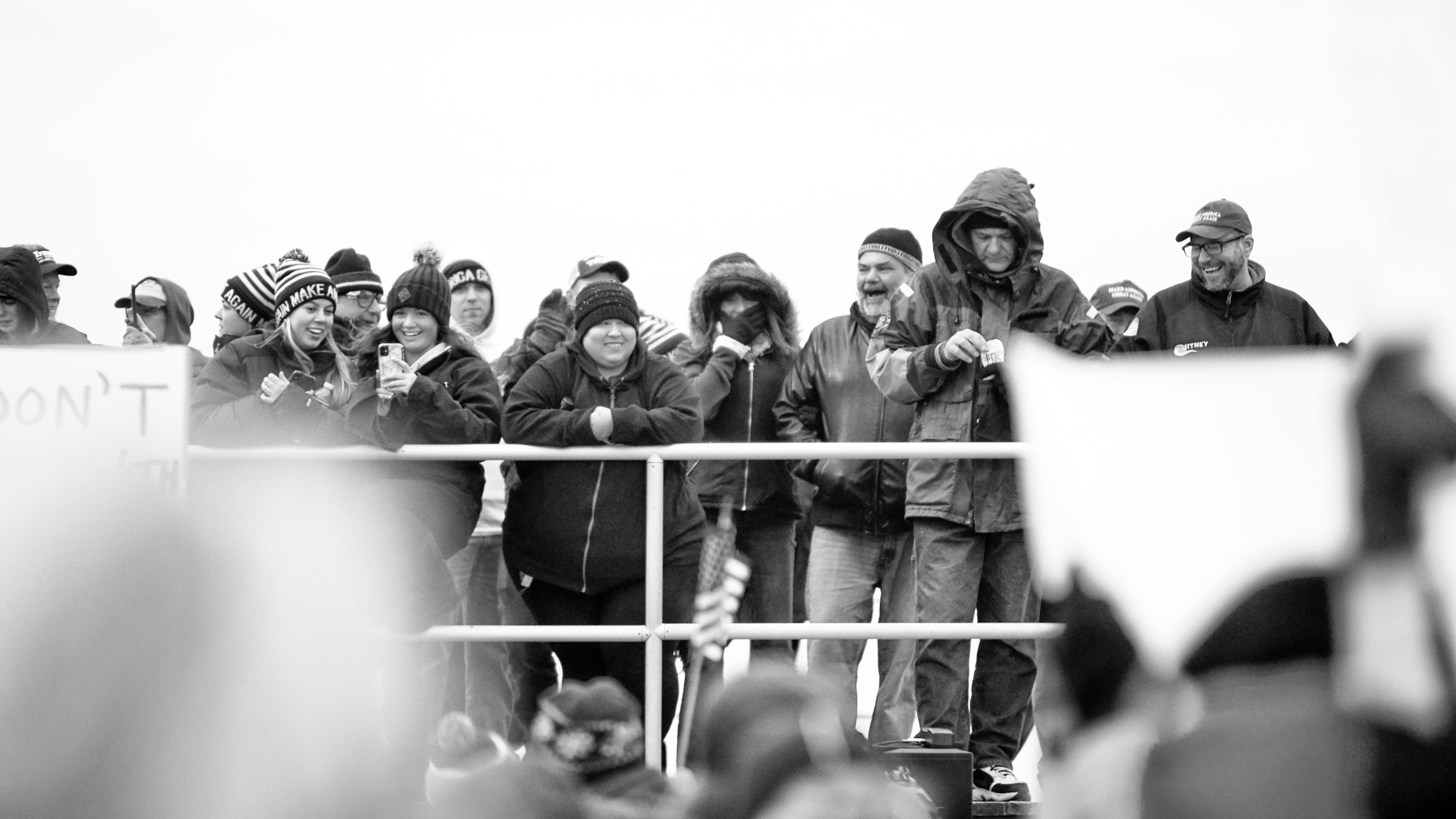 ---
"I was walking my dog near Cresse and Pacific Monday night, and over by Green's there's an apartment building where 6 or 8 Spanish speaking families live. This big, drunk, white guy was screaming curses at them, screaming 'fuck you', and 'you're all on welfare', and some other choice nuggets for a good 5 or 10 minutes. I didn't stick around, and I could hear him a block away. The Trumpers on the Boardwalk above the protest were vile. The city is lucky they didn't hurt any of us."
— Robin Kanter
---
"I witnessed out of control, angry, red-faced men screaming, cursing, pointing and shaking their fists at a peaceful crowd full of grandmothers, mothers, teachers, nurses, ministers, veterans, children, senior citizens and marginalized individuals, from the boardwalk railing and the hotel balcony. They went out of their way to stand in the one small spot that the city had designated for people who disagreed with them. There were apparently announcements in the Red festival area telling them not to engage if they were confronted by protesters, and when they weren't confronted, they hunted us down and stood for hours bullying, cursing and screaming and none of the other 'fine people' who organized or attend the red festival admonished them, approached them, voiced their disapproval or tried to make them stop.
"I was afraid of the mob mentality from the moment I got out of my car. I am no shrinking violet. I grew up in what was incorrectly described as a "seedy" boardwalk town. I worked, volunteered or attended every kind of concert, trade show, ethnic festival, political or sporting event. I have spent all of my adult life in the company of bikers, I can hold my own in a crowd of drunken men. I myself can have quite a potty mouth. I was afraid to carry my sign from my car until I walked up to our area and saw exactly what the situation was. When I walked back from my car with my sign I kept it covered and walked up Ocean Ave. I have never been a victim of violence or abuse and I was terrified of these men. I am pretty good at reading a room and many of these guys were one confrontation away from violence."
— Denise O'Brien
---
"I stayed away from the Trump supporters but noticed that every time I glanced their way one, or more, was giving us the finger."
— Marianne Rampulla
---
"I observed several MAGA supporters chanting obscenities, threats, etc. I said nothing to them, and I observed they were not provoked by resistance supporters."
— Daniel Hucklebridge
---
"The Cult-45ers lining the boardwalk railing above us Resistance members in the parking lot had quite a bit to say. Since they obviously couldn't get into the Convention Center, they decided to harass us. Some of the things I clearly heard screamed at us (with accompanying hand gestures):
'How many abortions have you had? How many babies have you killed? F***in' losers! Get a job! Turn around and talk to YOUR people! I f***in' live here, and I don't like you!'
"In spite of that, I felt safe among like-minded people who were there to stand against Trump. There was sufficient police presence to keep an eye on things, and the MAGAs made no attempt to come down off the boardwalk to us."
— Marie Harvey
---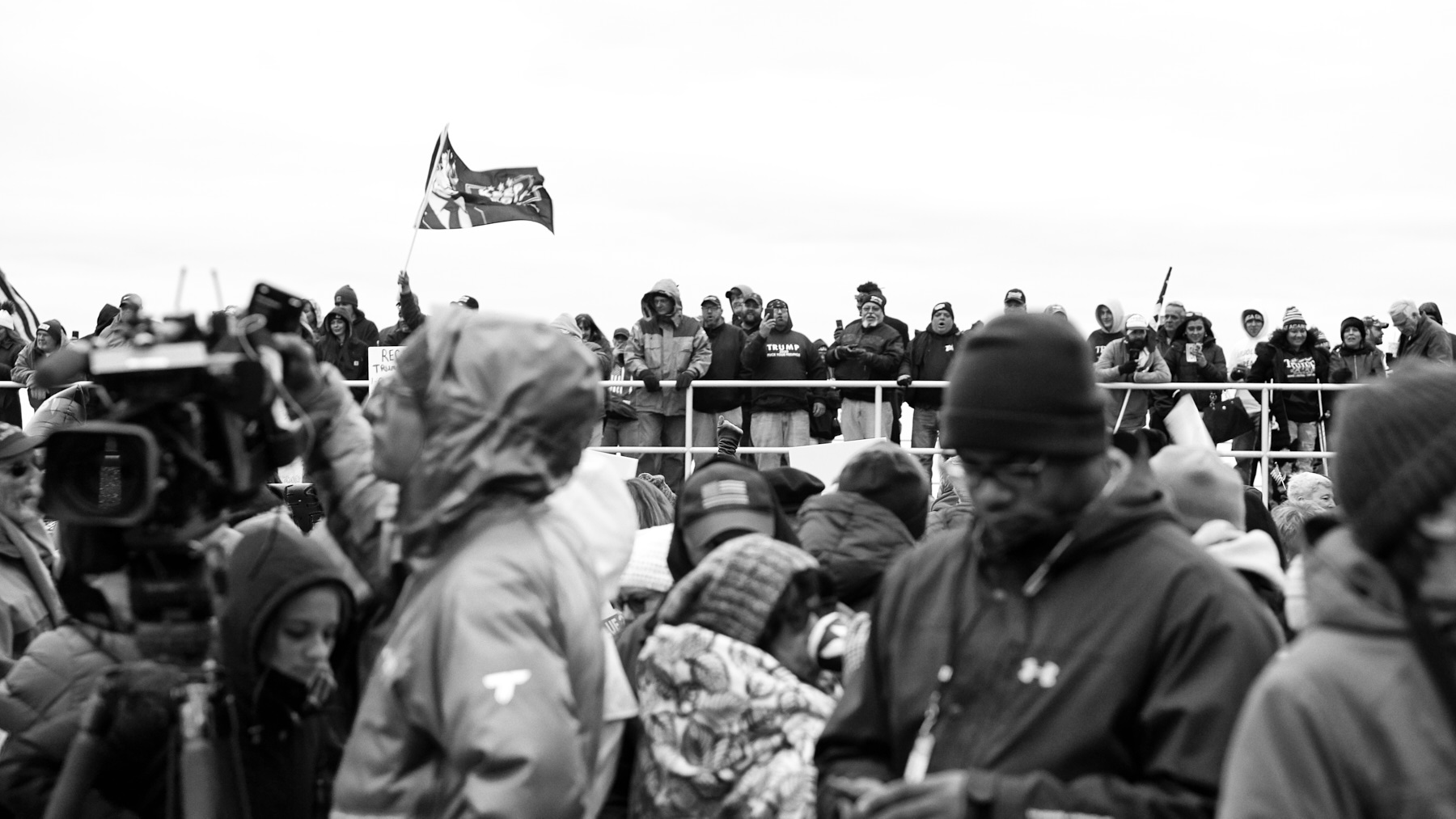 ---
"I was holding my sign in the air during a chant. Didn't say a word to anyone and this man in a hoodie points at me and says 'How many abortions have you had? How many babies have you killed?' and then continued to call my friend a 'dyke.' A lot of other rude things came out of that grown man's mouth, but none important enough to repeat."
— Cassidy McFadden
---
"A man standing opposite me on boardwalk screamed, 'Iraq is waiting for you, you fucking bitch.' Another screamed, 'Go abort another baby.' While we were chanting "USA," one man was pointing at one of the protesters chanting, 'You are a pig.' When we were singing, 'Blowing in the Wind,' one of the hecklers screamed to get the damn homo off."
— Sonya Bertini
---
"We were bullied. The experience in the ladies room left my friend and me rattled. People told us the next day how lovely the crowd was. We found them intimidating and the men on the boardwalk—well I'll leave it there. I walked away in disbelief and I'm an old Vietnam dissenter."
— Susan C Dowling
---
"I heard one kid yell, 'you people are stupid and you kill your babies!' When we were walking from the church with Amy Kennedy, a bunch of drunk Trump women came out into the street screaming and gave us the double middle fingers."
— Kathleen O'Neill
---
"Aside from being called a baby killer and a faggot like others (I didn't even engage to begin with. I took pictures the entire time and wasn't wearing anything identifying myself as a protester, but I was often standing near the Defusers by the boardwalk), at the end of the protest an older Trump supporter thanked us for cleaning up while two others, both younger (mid-20s to early 30s), taunted me about the ocean being polluted and why weren't we weren't cleaning that. Aside from that, when I first arrived in the Crest in the morning I needed to retrieve my bike from a friend's motel. I couldn't find him at first because he was selling parking spaces, so I asked a group of four dudes drinking beer in the lot if they'd seen him. They directed me to where he was, and when I walked past again they were joking to each other about how a guy my size had the audacity to ask for the motel's owner. I'm 5'9″, not the shortest dude but certainly below the average height of an American male, and skinny-ish with broad shoulders, bearded. But I think the discussion about my size is relevant because of the implication. Why would you size someone up if not the gauge their physicality against your own?"
— Trevor Jude
---
"I wasn't sure what to expect, but I was totally unprepared for the vileness of the Trump supporters, standing at the railing of our protest site. They were about 10 feet above us, which I'm sure made them feel powerful.
"They didn't relent, and kept up their barrage of hateful disgusting taunts for at least four hours. They were in full Trump garb, and the crowd ranged in size from 75-100 I'd say. They were two deep at the railing above us, so it was hard to tell exactly how many there were. It felt like 1,000.
"It was not only foul, it was unnerving. I felt unsafe. We were peaceably gathered and to stand there and listen to this despicable display just damaged me. Didn't they have somewhere to be?
"At one point, after we finished singing 'Blowin in the Wind,' I made my way over to the hospitality table to get some water, and I glanced up at the railers, and this big huge guy singled me out, spat down at me, gave me double middle fingers, and yelled 'F**K YOU!' Probably said that 10 times, ending with 'F**K YOU, YOU C*** SCUM!!!!'
"That was just one of hundreds of examples of their hate. Unprovoked, pure evil hate.
"I went to talk to cops numerous times to complain and ask why they were not protecting us from this. They each said essentially, that the trump supporters have a right to freedom of speech and that moving the crowd along would be in violation of that right. Utter bullshit. They did nothing, not a thing to stop it, and in fact, I think they secretly hoped things would escalate."
— Debra Suplee Donahue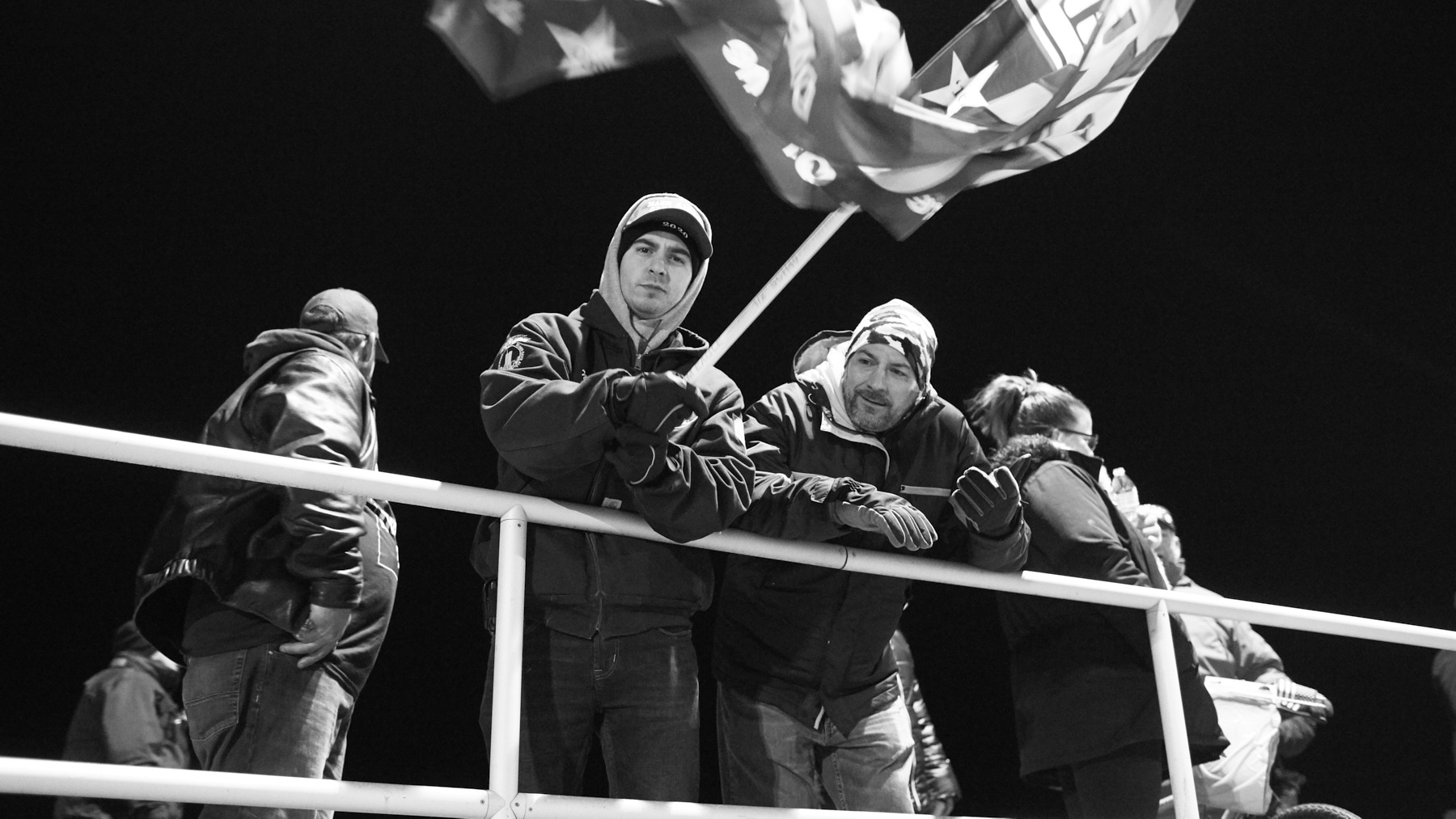 ---
If you have stories of your own, send them to tips@capemaystandard.com
You can follow David Todd McCarty on Twitter @davidtmccarty and The Standard @capemaystandard