Republicans have ceased to be a political party with any discernible ideology, as they have been abandoned principle in exchange for power.
By David Todd McCarty | Wednesday, February 5, 2020
There was a time in our country's history when being a Boy Scout was considered an exemplary thing—being a positive influence on a young man's long term principles and critical training for building character. Over time, with changes in modern culture, being a Boy Scout evolved to represent someone who was thought of as a "goody-two-shoes," "a straight-arrow," someone who "played by the rules" and who was therefore, unable to be corrupted.
Putting aside the many issues with the Boy Scout organization, from their history of bigotry and discrimination, to serious ethical lapses when it came to sexual misconduct by leadership, their original twelve principals, which are still taught even today, were sound, thoughtful and meaningful.
They are fairly close to principles most of us would consider indicative of a moral and ethical American ideal. They are principles we would be proud to be known for, and would hope that our children maintained throughout their lives. They are honorable traits.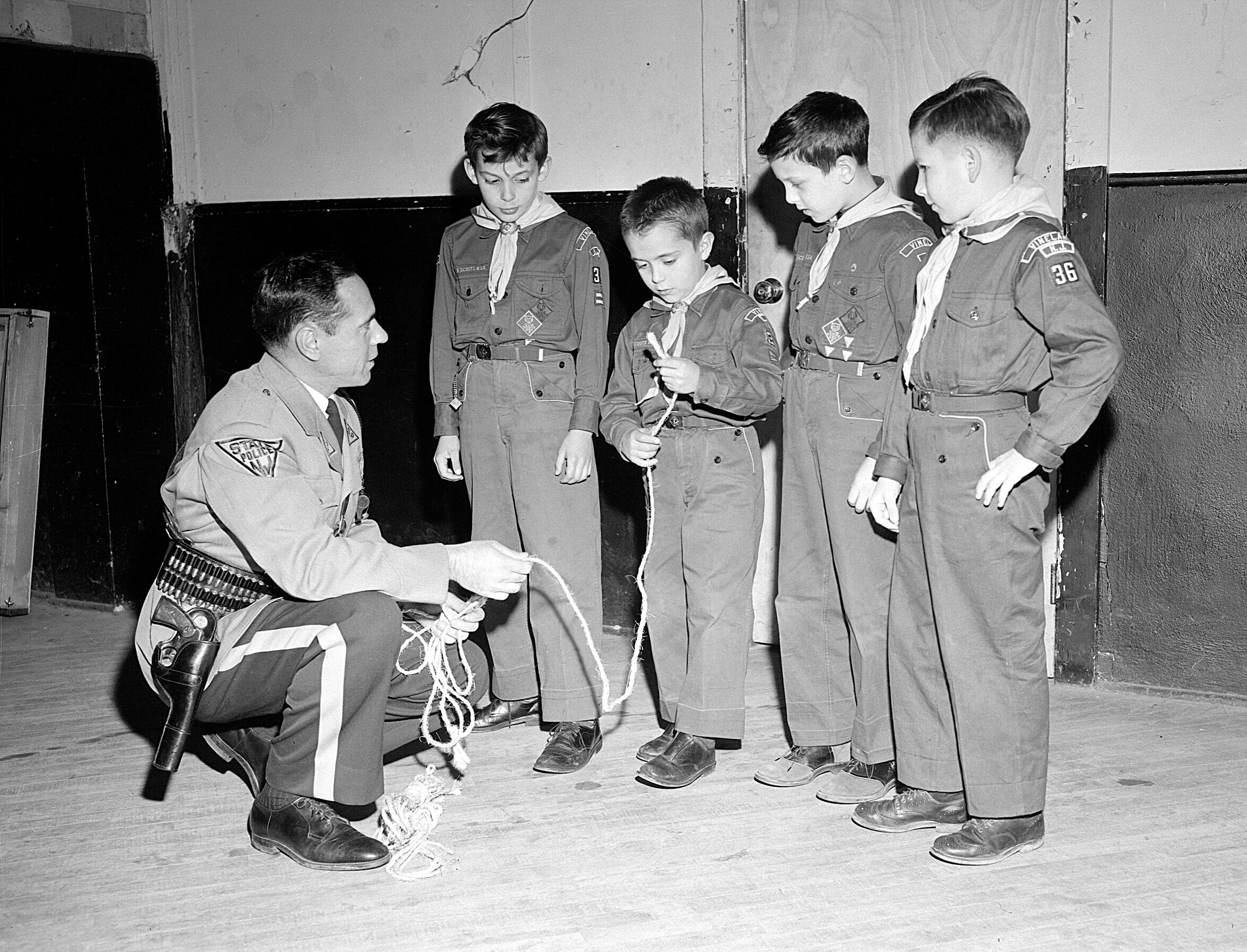 This is as good a standard as any to hold our elected leaders to, let alone the President of the United States. We should not expect our leaders to be perfect, but it seems fair to think that it be reasonable to hold them to a higher standard. At the very least, they should be expected to be held to a standard no less rigorous than we expect from children. There are twelve principles a Boy Scout is expected to live by, which is actually considered the Scout Law. "A Scout is trustworthy, loyal, helpful, friendly, courteous, kind, obedient, cheerful, thrifty, brave, clean, and reverent." Let's break that down and look at each one in relation to the current President of the United States, his administration, and the Republicans who shield and provide aid to him.
The following are the twelve tenants of the Scout Law:
Trustworthy. A Scout always tells the truth. He is honest, and keeps his promises. People can depend on him.
Let's start with the fact that President Trump is the most dishonest President ever elected to office. He lies so often, that there is a whole department at the Washington Post dedicated to fact-checking and cataloging his misstatement of facts and outright lies. The Republicans have followed suit, both in spreading misinformation, covering for his obvious lies and telling their own. This administration is not trustworthy to the extent that they will lie even when there is photographic, audio and even video evidence to contradict their lies. We can only imagine what they have lied about when the stakes are much higher. They cry fake news, and avoid answering questions or holding press conferences, because they have no desire to be held accountable for their many deceits. They have, in effect, made facts and truth a matter for interpretation or personal opinion, and determined that science is an act of faith that they don't happen to ascribe to.
Loyal. A Scout is true to his family, friends, leaders, school, and nation.
While President Trump certainly demands loyalty from his subordinates, he is loyal only to himself, which isn't actually loyalty, but narcissism. He is an island of one—and the country, the party, and even his co-conspirators are not safe from his wrath if he feels he hasn't been given the reverence he believes he deserves. The minute you fail to defend him, regardless of his transgressions, he turns on you and attacks. Friends. Leaders. Nations.
Helpful. A Scout cares about other people. He willingly volunteers to help others without expecting payment or reward.
If there is anything lacking from the Republican Party, and from Donald Trump himself, it's empathy. From public policy to simply basic human decency, helping others is anathema to the Party and seen as a sign of weakness. The poor are lazy. Immigrants are rapists and thieves. Other countries are deadbeats unwilling to pay their fare share. It's someone else's problem, not ours. When do we get credit, Trump wants to know, and where is our reward?
Friendly. A Scout is a friend to all. He is a brother to other Scouts. He offers his friendship to people of all races and nations, and respects them even if their beliefs and customs are different from his own.
Under President Trump, America isn't even friendly to our allies anymore. The only people Trump respects are dictators and despots who he admired for their ability to rule with an iron fist and are accountable to no one. Republicans believe in the idea of American Exceptionalism where America comes first because we deserve it, and everyone else is somehow less. They come from "shithole countries" and are not deserving of our respect, let alone our friendship.
Courteous. A Scout is polite to everyone regardless of age or position. He knows that using good manners makes it easier for people to get along.
Courtesy is one of the things that Republicans abandoned during the Obama administration when their hatred of the President became greater than even their desire to govern, even when it was in their best interest. Good manners, tradition, decorum and professional courtesy were gone. Since Trump was elected it's become even worse as he demands the worst in schoolyard bullying tactics. Trump and the Republicans have no interest in getting along with anyone else, certainly not the Democrats, and not even with other countries.
Kind. A Scout knows there is strength in being gentle. He treats others as he wants to be treated. Without good reason, he does not harm or kill any living thing.
There is nothing kind about Donald Trump, in fact, he seems to go out of his way to be cruel, to nearly everyone around him, especially anyone he feels is his enemy. He often acts, not even out of self-interest, but seems to go out of his way to be cruel with no apparent gain. He is an angry adolescent, torturing the weak, because it makes him feel powerful.
Obedient. A Scout follows the rules of his family, school, and troop. He obeys the laws of his community and country. If he thinks these rules and laws are unfair, he tries to have them changed in an orderly manner rather than disobeying them.
The impeachment and subsequent acquittal by the Republican controlled Senate are all you need to know about how they view the rule of law when they are the ones who hold the keys of power. Even the Constitution is a mere obstacle to be misconstrued in an effort to maintain power and defend the indefensible. In the past administration they howled in protest over what they saw was Presidential overreach. But we know what they were really protesting—the audacity of hope.
Cheerful. A Scout looks for the bright side of life. He cheerfully does tasks that come his way. He tries to make others happy.
Even when President Trump is smiling, he doesn't appear to be happy. He sneers and does so often at the expense of others. He rarely looks content or cheerful for the sake of itself. You've never seen him laugh. Not much seems to bring him joy, other than golf one could argue, but even in a game he claims to love, he is known as a cheater.
Thrifty. A Scout works to pay his own way and to help others. He saves for the future. He protects and conserves natural resources. He carefully uses time and property.
No previous President has been as wasteful in spending to stroke his own ego than President Trump. From military parades and unnecessary displays of force, to his constant personal travel, and flagrant profiting off his elected office, he is not a responsible steward of our resources, natural or material. He is not worried for out future, only his.
Brave. A Scout can face danger although he is afraid. He has the courage to stand for what he thinks is right even if others laugh at him or threaten him.
Trump is a coward, this much is clear. Bullies are never brave souls. They are fearful little boys who must pretend to be powerful in order feel so. He strikes out when he feels he is in a position of power. When he has leverage, he becomes bold; without it, he becomes deferential. He is a coward and this makes him fearful and dangerous.
Clean. A Scout keeps his body and mind fit and clean. He chooses the company of those who live by high standards. He helps keep his home and community clean.
He might be a germaphobe, but Donald Trump is a slob. Look at the company he keeps and the standards by which he lives. He soils everything he touches and sullies those around him. His mind and body are awash in Fox News and McDonalds, which is a perfect metaphor for his soul.
Reverent. A Scout is reverent toward God. He is faithful in his religious duties. He respects the beliefs of others.
Up until the election of Donald J. Trump, American Presidents were expected to at least feign faith. To attend church and at least give voice to a belief in God. Trump has made it very clear that not only does he know nothing about Christianity, he follows none of its precepts and believes none of its doctrines. As for other religions, they are merely to be mocked.
—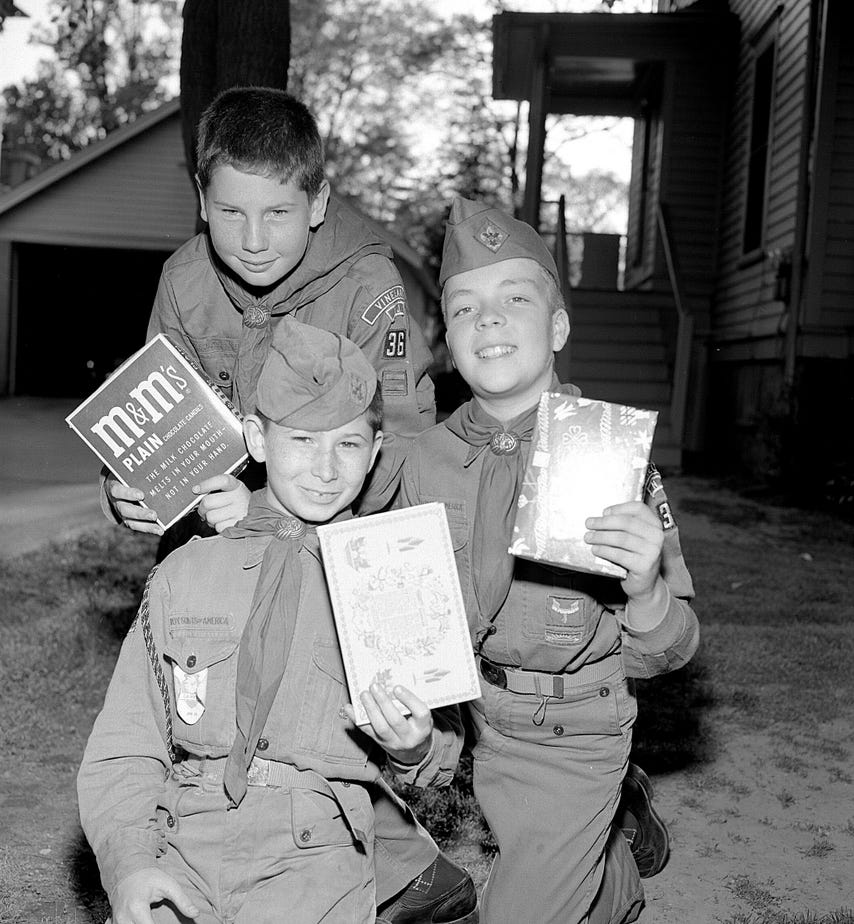 If you're a Trump supporter, no doubt you'll read this and laugh, self-assured that Trump has once again offended the "Liberal Snowflakes" with his brash manner and unconventional leadership style. But this belies the reality of the chasm between what were once considered traditional conservative values and our current President.
According to the new Trump Republican Party, values and principles are no longer important, or even relevant to the goal at hand. As long as he defends their right to faith-based bigotry, homophobia, greed, isolationism and the right to control a woman's sexuality; as long as they are assured their place in the world, with their regressive positions rooted in the literal reading of a two-thousand year old text, they will support whatever transgressions he feels entitled to commit.
Mostly though, as long they believe Trump will keep them in power, the Republicans will do nearly anything it seems to keep him in power as well, including turning their backs on long held beliefs.
Trump is like a star athlete, who while being a disaster off the field, is forgiven all manner of sins, as long as he keeps giving the fans wins. He gives them a championship, and they agree to look the other way as he lies to fans, cheats on his teammates, steals from the city, beats his wife, kicks the dog, and makes his children cry.
As long as they get that championship ring, which sooner or later they will learn, is in fact brass, and not gold as they have been promised, they will continue to rationalize his behavior. Which means that they have sold their souls, not to a champion, or a god, but to a feckless, corrupt, mercurial, narcissist who will bring about their destruction. They will eventually have to come to grips with that someday, and the world will remember them as followers of the most reprehensible leader in American history.
We are left then, with a President lacking a moral compass, a Party with no political ideology to guide them, and a country with no hope.
America is in a moral free-fall, where we have placed profit over principle, pride over honor, and greed over justice. With all that is happening in the world, we are most definitely in need of a hero, but at the very least, we would settle for a Boy Scout.
Better yet, a Girl Scout.
---
If you have stories of your own, send them totips@capemaystandard.com
You can follow David Todd McCarty on Twitter@davidtmccartyand The Standard@capemaystandard