In yet another example of New Jersey doing things unlike the rest of the country for no apparent reason, our election ballots are confusing and undemocratic.
By David Todd McCarty | Monday, February 17, 2020
Most of us who live in New Jersey are used to the idea that we do some strange things in this state, such as construct jug handles and traffic circles, make someone else pump our gas, and argue about what to call a pink meat substance invented by a guy named John Taylor.
While you might argue that not having to pump your own gas is actually rather nice, especially in inclement weather, there is one phenomenon that we simply accepted that makes no sense, is unnecessarily confusing, and arguably undemocratic. That is something called the "Party Line" or sometimes the "County Line."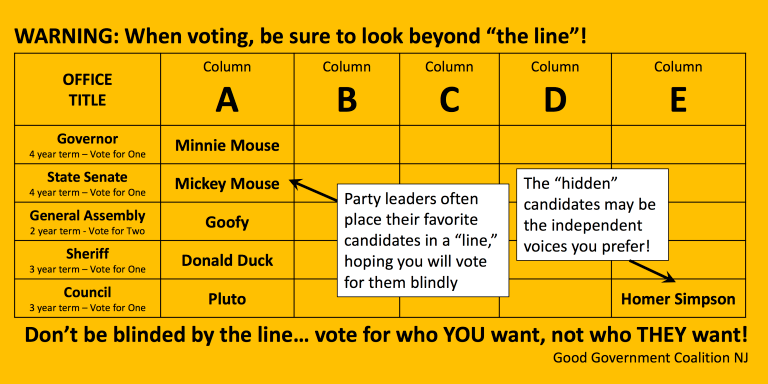 Under this archaic system—New Jersey is the only state to do this by the way—the county political party (sometimes decided by a full Committee vote, sometimes on the whim of a single Committee Chair) decides who will have the honor of being on the first line of the Party ballot, using the official designation for that Party such "Regular Democrats." In the example above, the Party Line would be Column A.
This obviously gives any candidate on that line, a huge advantage, especially during a Presidential election year when someone might be more tempted to simply "vote the line", meaning they would go straight down the line, starting with the Presidential candidate, and voting for all the Democrats on that line. What you might not realize is there are other Democrats, running for that same seat, for the same party, but they are stuck off to the side in another line. They often get missed or even ignored.
In the above example, Jim Keady was running for the House seat in the 4th Congressional District. But since Joshua Welle was given the Party line, he had the advantage of being listed in the first vertical line of candidates, while Jim Keady was off by himself, where he could be missed, or even thought of as a third-party candidate, when in fact, he was simply another Democrat running for the same seat. The same with Janis Iwanyk, who also did not get the Party line and found herself in what some have called ballot Siberia. There is statistical evidence to suggest that the Party Line is hugely advantageous and grossly unfair.
Critics of this system complain that it gives too much power to County Committees and their Chairman who use the Party Line to reward loyal candidates who are willing to tow the Party line, and unfairly manipulate the race in favor of candidates of their own choosing. It is an unfair system that rewards machine politics and keeps power confined to a small group of power brokers and influential party leaders. In other states, seen in the sample ballot below, there is no structural benefit to any candidate. This is what we should have.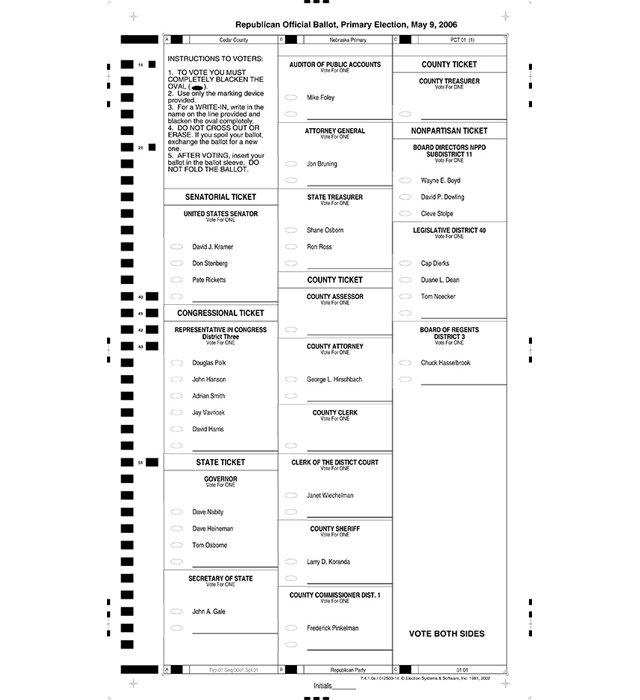 Recently Cape May County Indivisible distributed a petition to all the Democratic candidates running for the House seat in the 2nd Congressional District currently occupied by Rep Jeff Van Drew (NJ-R). They asked the all the candidates sign a pledge that read: "We, the undersigned, resolve to CALL FOR THE END OF THE COUNTY LINE and to SUPPORT BALLOT REFORM that EMBRACES THE SPIRIT OF OPEN DEMOCRACY AND DEMOCRATIC VALUES to COMPETE IN A TRANSPARENT PRIMARY PROCESS in which there is no inherent advantage granted to a single candidate through the ballot structure and we engage solely on the merits of our respective experience, platforms, and ability to campaign effectively to win support and invite accountability from our constituents."
Five of the six candidates running have signed the pledge: Ashley Bennett, Will Cunningham, Amy Kennedy, John Francis, and Robert Turkavage. Brigid Harrison is the only candidate thus far who has not signed on.
While getting candidates to put pressure on Party leadership to change the system is certainly useful, there is another way to change the system more directly, and that is by getting yourself elected to the Cape May County Democratic Party Committee and changing the rules yourself.
Here in Cape May County we have 254 committee seats and every single one is up for election every four years, so regardless of who is currently in that seat, there are two seats for each of the 127 districts in the county.
Traditionally, one seat in each district was designated for a man, and one for a woman, but the courts have struck that down as gender biased and unConstitutional. So wherever you live within Cape May County, there are two seats open this June. This is an elected position, but it's not a job. It just means you get to decide how the Democratic Party operates, who they nominate, and what the rules are governing the Party. That's it. Pretty simple.
---
It's super easy and we're going to tell you exactly how to do it.
Download the petition here, print it out, and follow the instructions on the last page.
You fill in your name, address, and the district you are filing in. If you don't know contact tips@capemaystandard.com or leave it blank until you take it to your town clerk. You can also look here.
Get at least two neighbors, friends or even family, (they recommend you get five to be safe) who are registered Democrats and live in your same district, to sign your petition.
Take all five pages to your town clerk (different that the county clerk) and get them to notarize it for you. Then you'll take the oath and sign the paperwork. Now you're on the ballot. All petitions must be in by March 30, 2020.
Tell people to vote for you on June 2, 2020. If you get the most votes, and at least two, you're on the committee. If you want a graphic to put on social media with your name on it, contact david@hoppingfrogstudios.com and he'll make you one.
Show up on June 10, for the Democratic Committee Meeting for the re-organization, and vote for whichever group is promoting participatory democracy as opposed to the status quo. Hint: In April, once everyone has filed, we will tell you who is running for what office.
---
Make sure to tell people to vote for you and don't forget to educate them about the Party Line, because you won't be on it. Remember, you will be off to the side somewhere listed as a Cape May County Democrat.
Cape May County Democratic Committee currently has the following executive members that will need to be voted on: Chairman, Vice-Chairman, Recording Secretary, Corresponding Secretary, Treasurer and Sergeant At Arms.
Even though you need to be on the Committee in order to vote on the executive seats, you don't actually have to be on the Committee to get elected to an executive seat. You need only be a registered Democratic, living in Cape May County.
Of course everyone wants you to be super involved, but the reality is you can show up to a few key meetings a year and vote. If you want to be more involved, you are very much encouraged to be so and there is plenty to do. If you don't, that's okay too.
The issue is simple. The more people who get on the committee, the more likely we are to vote in new leadership and change the way things are done in Cape May County. Otherwise, we continue to get the status quo and the big Party Machine in Trenton.
So, download the petition, get your signatures, take it to the clerk, and tell your friends to vote.
See you at the Committee Meeting on June 10 (or there about…just in case they change it).
---
You can follow David Todd McCarty on Twitter @davidtmccarty and The Standard @capemaystandard