With All 254 Seats On The Cape May County Democratic Party Committee Up For Election This June It's Time To Change Out The Old Guard.
By David Todd McCarty | Tuesday, February 18, 2020
New Jersey politics can be complicated on a good day, from unelected power brokers holding sway over elected officials, to an archaic ballot system that rewards loyalty to the party while undermining democracy, to terms like Freeholder and Committee that most people still don't understand. So when it come to how things actually get done in New Jersey, there are a lot of back room shenanigans, and less than democratic systems in place. Technically, the process is fairly straight-forward, although not widely promoted or discussed, but in reality, it can also be confusing and obscure, with very limited understanding of the process.
In each county, the political parties have their own rules for governing themselves, but generally speaking there is a Committee, made up of registered party voters from each designated District, and they are led by an Executive Committee that is voted on by those members. While vacancies can be filled by District and Ward Chairmen with a majority vote of members present, and the approval of the County Chairman, the official means of election to the Committee is to get on the ballot during a Presidential election year.
This is not to be confused with the elected position of Township Committee, which is usually a Mayor and somewhere between three to five Committee officials who serve as both the executive and legislative authority for each Township.
Here in Cape May County, we are obviously in a Presidential election year, and so all 254 seats, covering 127 Districts, are up for election. That's two people from each of the 127 Districts, traditionally chosen as one man and one woman—although the Courts have ruled that to be unConstitutional—to represent each district.
That means any registered Democrat who files a petition with the Town Clerk, stating their name and address, gathering a minimum of two signatures (it's usually recommended you get at least five) from registered Democrats in their same District, getting the Clerk to notarize the petition and taking an oath of office, will then be placed on the ballot for the Primary on June 2, 2020. If you get at least two votes, and more than anyone else, you will be elected to the Committee.
Smaller District Committees, sometimes known as Clubs (ie, Middle Township Democratic Club), meet monthly and then County-wide meetings are held periodically to hold votes for things such as Congressional Candidate nominations, which is how Party Line designation is decided, and any other business that the Party needs to conduct.
The Party Line is a curious ballot system that is used only in New Jersey, where the Committee decides who gets to be on the first line of the ballot, giving them a distinct advantage and allows them to have a greater control over the election process. Proponents argue that this gives the Party a means to vet candidates and run only those candidates who can be trusted to vote with the Party and to win. Critics argue that it is undemocratic and simply a way to allow the Party machine to control who gets elected and who does not, thereby stripping voters of their ability to decide for themselves who gets to represent them.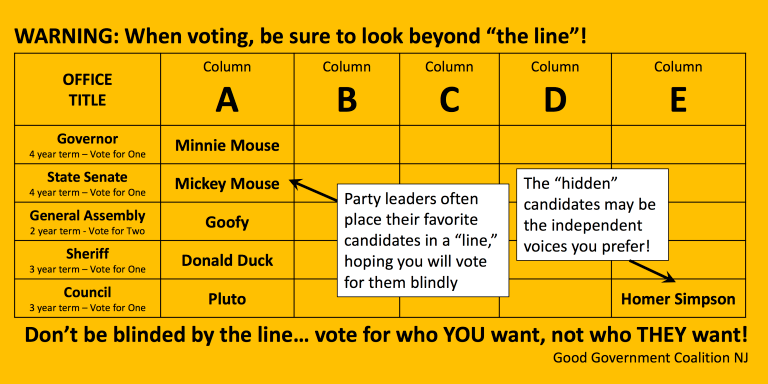 In addition to choosing candidates for Party Line designation, the full County Committee is tasked with electing an Executive Committee every four years, one week and one day after the Presidential Primary, which this year would be June 10, 2020 (assuming they stick to that schedule). Every newly-elected, or re-elected member of the County Committee shows up to a meeting and individuals are nominated for the various roles of the Executive team. In Cape May County they are currently Chairman, Vice-Chairman, Treasurer, Recording Secretary, Corresponding Secretary and Sergeant-At-Arms.
In order to vote, you have to be an elected Committee Member, but in another odd twist of Cape May County elections, the only requirement to hold an executive post according to the Party bylaws, is to be a registered Democrat. So any registered Democrat can become the Chairman or Treasurer, etc., but only duly-elected Committee Members may vote them in.
A vote is then held and the people with the most votes are sworn into office.
There are those in the Party, who wish to see an overhaul of our current Democratic Party system in Cape May County, from getting rid of the Party Line and converting the process of nominating and endorsing candidates to a County Nominating Convention—such as has successfully been done in Atlantic County since 1975, to working hard to expand the Party and be more inclusive and more transparent.
If you want to change the system, you have to change the rules, and the only way to do that is to change the players, and in order to change the players you have to get involved yourself. The good news is that it's super easy and I'm going to tell you exactly how to do it.
Download the petition here, print it out, and follow the instructions on the last page.
You fill in your name, address, and the district/ward you are filing in. If you don't know which District or Ward you are in, you can contact your Town Clerk and ask them, or you can contact tips@capemaystandard.com and we will help you, or just leave it blank until you take it to your town clerk. You can also search here and here to determine which district you are in.
Get at least two neighbors, friends or even family, (they recommend you get five to be safe) who are registered Democrats and live in your same district, to sign your petition. The Districts are cut up oddly, so make sure you get signatures from registered Democrats that live in your District only. Across the street could be a different District.
Take all five pages to your Town Clerk (different that the county clerk) and they will notarize it for you. Then you'll take the oath and sign the paperwork. Now you're on the ballot. All petitions must be in by March 30, 2020.
Once you're officially on the ballot, tell people to vote for you on June 2, 2020. Don't forget to educate them about the Party Line, because you won't be on it. Remember, you will be off to the side somewhere listed as a Cape May County Democrat. If you get the most votes, and at least two, you'll be elected to the committee. If you want a graphic to put on your social media, or to print as a flyer with your name on it, and telling people to vote for you, contact david@hoppingfrogstudios.com and we'll make you one.
Then show up on June 10 (or whenever the meeting is called) for the Democratic County Committee Meeting for the Re-Organization, and vote for the Candidates who endorse Participatory Democracy as opposed to the Status Quo.
So, to recap. Print out the petition. Get five signatures. Take it to your Town Clerk to be notarized. Ask your friends to vote for you on June 2. Show up to one meeting and vote for change on June 10. That's it.
We have 254 opportunities for change this June and we hope you take the opportunity to use all of them.
---
You can follow David Todd McCarty on Twitter @davidtmccarty and The Standard @capemaystandard.