Progressive activists in the state have been organizing "rolling protests" to fix a system they say is broken whereby County Chairs are able to give preferential ballot treatment to candidates the Party Machine prefers.
By David Todd McCarty | Thursday, March 5, 2020
Last night, a few dozen protestors stood outside an old wooden building on Main Street in Cape May Court House, holding signs, handing out flyers and waiting for an event to begin. The event was a Democratic Forum held by the Middle Township Democratic Club, to showcase the various candidates running for New Jersey's 2nd Congressional House seat. Only the protesters weren't there to protest any particular candidate, policy or even the Democratic Party. They were there to protest what they say is an affront to the very concept of democracy in New Jersey. Something known as the Ballot Line.
The movement in South Jersey began as a growing murmur that became a call to action among progressive Democrats that Jeff Van Drew, the longtime conservative Democrat from South Jersey, needed to be dealt with, and with more than angry phone calls. He was increasingly deferential to the President, going on Fox News and claiming he didn't see any evidence of abuse of power, or anything Van Drew was willing to call an impeachable offense. It was time to primary him from the Left.
But then he surprised nearly no one by voting to acquit the President, and within weeks had made the decision to switch parties and become a Republican. He did it in the Oval Office, pledging his "undying loyalty" to Donald J. Trump, then invited him to South Jersey for a big MAGA rally.
Establishment Democrats claimed they had been misled. They claimed that Van Drew had been holding them under their thumb and that now they were free to make their own choices. But it was these same County Chairmen who had forced Van Drew on the Party in the first place. In 2017, he wasn't elected so much as coronated, by none other than Party Boss George Norcross, who gave him his endorsement before Van Drew even announced his candidacy.
Progressive groups started complaining about the systematic injustices that were inherent in the political system in New Jersey, specifically what is known as the Ballot Line, or the County Line. This is a peculiar aspect of New Jersey politics where each County Chairman of the Democratic Party decides who gets a favorable line on the ballot. Everyone else gets sent to ballot Siberia never to be heard from again.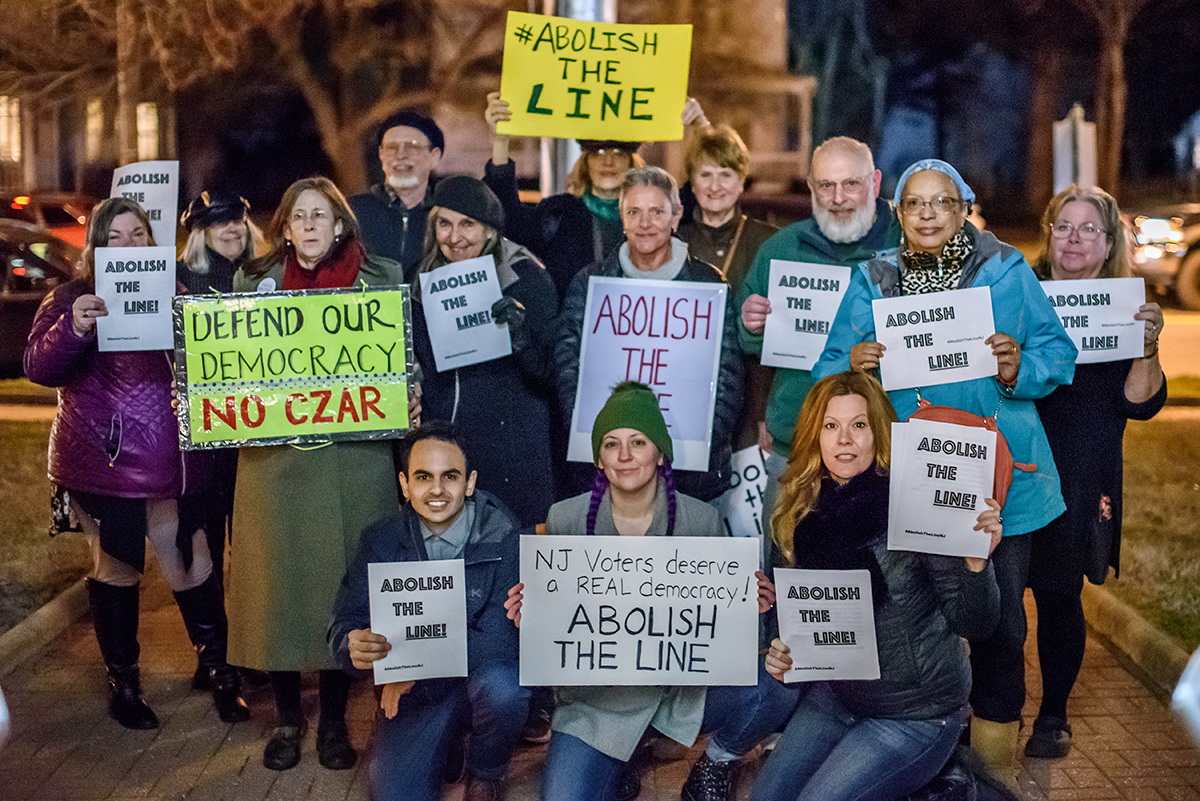 Abolish The Line rallies were initiated by a group calling itself New Jersey Rallies Against The Line, and protests have begun occurring around the state including in Mercer and Camden Counties as well as the Cape May County protest just last night. Progressive, grassroots groups in each county are protesting the Ballot Line and asking for fair and transparent elections.
"The line has been a problem and a focus of advocates for years," says Ryan Paetzold of Cooper River Indivisible. "But this really came into sharp focus this election cycle when establishment Party Democrats began worrying that Bernie Sanders would bracket with Democrats outside the party control and they could be hurt down ballot by this. They were essentially admitting that the Ballot Line was unfair because they were admitting that it could hurt them.
"County clerks have tried to argue in the past that 'The line system helps keep things simple for voters who can get easily confused,' says Paetzold. "But they finally showed their hand that this is simply a system designed to benefit the party machine and disadvantages newcomers and anyone else who wants to challenge an incumbent. It was only apparently helpful to voters until they realized they could be hurt by it."
Cape May County Indivisible was the first group to suggest that Democrats running to challenge Jeff Van Drew for his Congressional seat should sign a pledge, disavowing the very process that had helped to elect him in the first place.
"Unfortunately, there are establishment Democrats who are more interested in maintaining power and control than having fair elections," said Cape May County Indivisible Co-Chair Cassandra Gatelein. "But we aren't going away. Our grassroots message is clear: "Abolish the Line." No more bosses or back room deals. New Jersey voters deserve a true democracy—and we will fight until we get it."
All but one of the Congressional candidates signed the pledge: Amy Kennedy, Will Cunningham, Ashley Bennett, John Francis and Robert Turkavage.
"All too often the line has been used by party bosses to rig elections for candidates of their choice instead of allowing the people to decide," said Amy Kennedy who is running for New Jersey's 2nd Congressional House seat. "After Van Drew abandoned South Jersey and pledged his undying support for Trump, I don't think voters will stand for a rigged process this time and I'm proud to support grassroots organizations like Cape May Indivisible, who are pushing for long term electoral reform."
"I signed the pledge because this a conversation we need to have and I want to be a part of," said Dr. John Francis, another candidate running for the House seat.
Congressional Candidate Will Cunningham, who worked for both Sen Cory Booker and the late Rep Elijah Cummings, has been very vocal about the issue saying, "Democrats must commit ourselves to actual democracy—that means transparent and fair county conventions during Democratic primaries. We all saw what happened in 2018, when a phony Democrat was foisted upon our District. We must do everything in our power to history from repeating itself."
Brigid Harrison, the first candidate into the race, almost immediately secured six of the eight County Chair endorsements before anyone else got into the race, and was the only one who refused to sign the pledge. It would appear that Harrison is reluctant to sign a pledge that would abolish a system that she is currently trying to capitalize on.
Since then a loose association of progressive groups have signed on to a commitment to "rolling protests" of County Chairman's offices or Democratic events.
"The rolling rallies to Abolish the Line are a statewide progressive effort to bring attention to the problem of the ballot line," says Kate Delany, President of the South Jersey Progressive Democrats. "Jersey voters deserve a fair ballot like the rest of the nation has. We need a ballot where candidates are grouped by the office to which they seek election. Our current column arrangement gives the establishment a measurable advantage and works to shut out challengers."
"The whole system needs to change permanently," Paetzold says. "We have a statewide network of Indivisible chapters, and we started with them before expanding to other grassroots groups beyond ours. This is our best shot at affecting real change and we're going to take advantage of it."
More protests are in the works organizers say, and they aren't going to stop until they convince party leaders, county clerks, candidates and voters that New Jersey deserves fair and open elections like the rest of the country.
Upcoming Rallies:
March 7th: Hudson County
March 9th: Burlington County (CRI & SJPD)
March 9th: Monmouth County (Our Revolution Monmouth)
March 11th: Middlesex County (Central Jersey Progressive Democrats)
March 11th: Union County (NJ Progressive Democrats of Union County)
---
Follow David Todd McCarty on Twitter @davidtmccarty and The Standard @capemaystandard