Black women were not absent from the suffragette movement, as they appear to be in so many old photos, they were just forced to go it alone, as they often have in American history.
By David Todd McCarty | Tuesday, August 18, 2020
---
You see the photos of women, in their ludicrously formal ensembles of long, heavy dresses and puffy sleeves, wrapped in sashes and carrying banners, stern and unapologetic, demanding the right to be heard. In these yellowing photos, the women are generally older, mostly wealthy, and white. There are no women of color in these photos, because they were not welcome in white society, but that does not mean they weren't fighting for the same rights.
Most historians mark the beginning of the suffrage movement in 1848 with a meeting in Seneca Falls, N.Y. Black women were not present at that meeting, but months earlier, in Philadelphia, they were organizing a conference of the African Methodist Episcopal (AME) Church, one of the large Black religious denominations of the day, where there was a fight over women's rights, specifically women who wanted to be licensed to preach. It's fair to say, that long before White women decided that they wanted equality, Black women were fighting for rights of their own.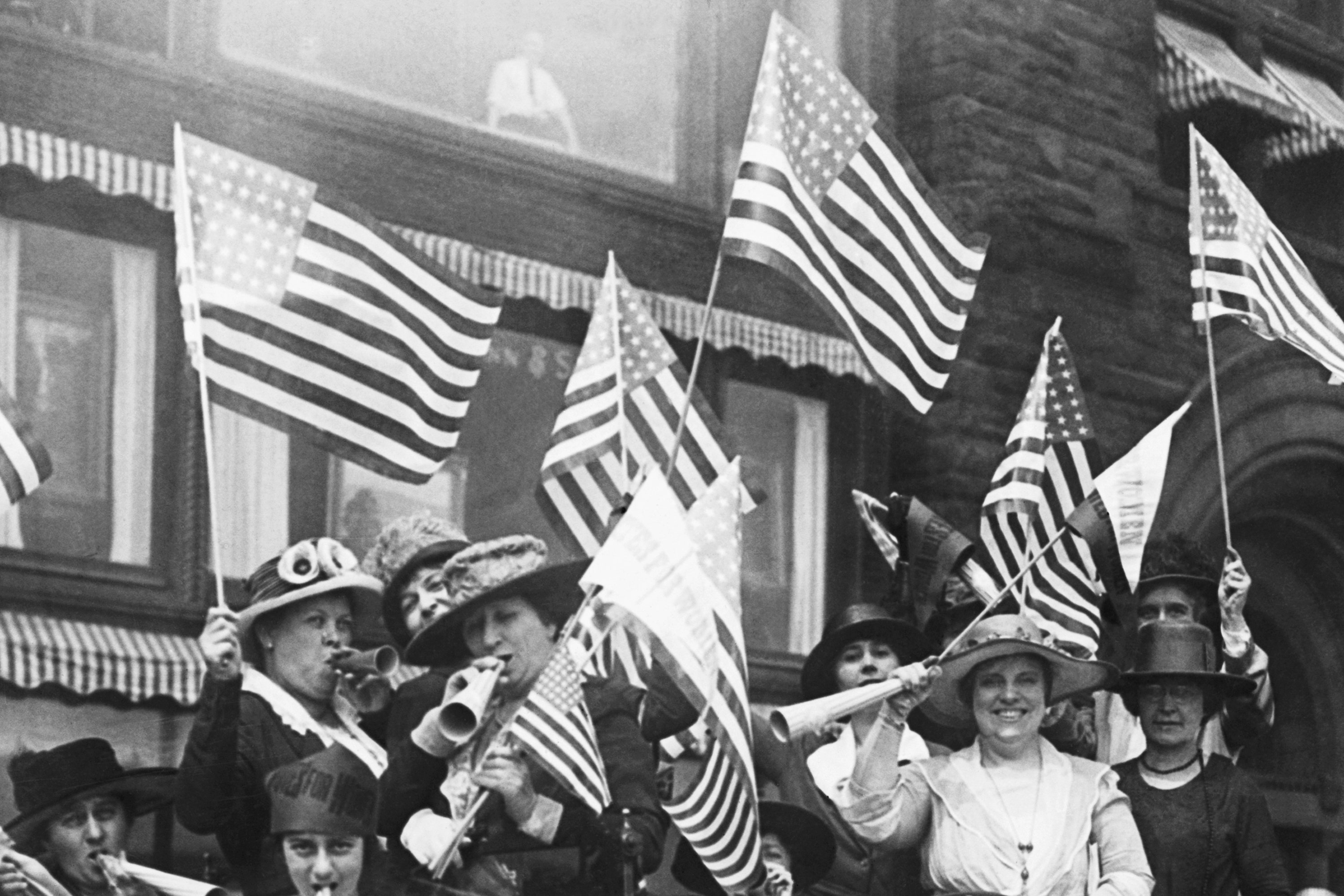 The suffragette movement of the early 20th century was implicit in its desire not to interfere with the disenfranchisement of Black women, and so often excluded them so as not to offend their southern counterparts such as the United Daughters Of The Confederacy.
Martha S. Jones, historian and author of Vanguard: How Black Women Broke Barriers, Won the Vote, and Insisted on Equality for All, says, "If we only look for African-American women suffragists in organizations put together by white American women, we're going to be disappointed in the sense that their numbers will be small—or, in the example of Seneca Falls, nonexistent. At the same time, if we follow African-American women to where they are and listen to what they have to say and watch what they do, turns out they are as interested in political power and the problem of sexism as any community of American women—but they're doing that work on their own terms."
Jarena Lee was born on February 11, 1783 in Cape May, New Jersey to free Black parents. When she was seven, she went to live as a maid to a white family living sixty miles away, where she taught herself to read and write. At the age of 20, Jarena moved to Philadelphia and got involved with the church of Richard Allen, a man who would later go on to found the African Methodist Episcopal Church (AME). Jarena felt the call the preach, but at that time, women were barred from preaching in most protestant churches, and Allen forbade her. Over time, Jarena felt so convicted that she began to preach without Allen's permission, and she was so effective that eventually he relented and Jarena Lee became the first authorized female preacher in the AME. Lee didn't wait for anything to be given to her. She did not accept that women should be treated as less than any other child of God.
"If the man may preach, because the Savior died for him, why not the woman?" She asked. "Seeing he died for her also, is He not a whole Savior, instead of a half of one?"
The confluence of racism and sexism are of course a common theme in looking at the fight for Black women in America to achieve anything resembling equality. While Black men were fighting for the right to be treated the same as Whites, Black women were fighting for the right simply to be treated as men.
On August 18, 1920, after a long, hard battle, fought by women of privilege from across the country, the 19th Amendment to the Constitution was ratified and women in America were formally bestowed the same rights and privileges as men. It would be nearly five decades later that Black women would receive those same rights.
We like to celebrate our accomplishments here in America, as we like to think of ourselves as independent, forward thinking, and entrepreneurial. But it's important to remember that for centuries there were two Americas, running separate, if not parallel lives. White America, and then everyone else. We celebrate the ratification of the 19th Amendment giving women the right to vote, but we often fail to mention that we really only mean white women. We celebrate Independence Day in America, but we fail to acknowledge an entire group of people who were not just subject to taxation without representation at that time, but held against their will as slaves, have no reason to celebrate that day, then or now.
We often celebrate just one part of America, the part we wish to see, through a patina of nostalgia for "the good old days" before we woke up and discovered how dreadful everything had been for a significant portion of the population. We have long been protected from the reality of history by a convenient whitewashing of our sins, which is why we created myths about our founders, and erected statues of our traitors.
This is not to say that you don't acknowledge the sacrifice that women made in securing for themselves the right to vote, but we would do well to remember that they did not do it alone, and once they had secured their own place at the table, many of them walked away, leaving those without a seat or even a place to stand, to fend for themselves.
Even today, Black women are paid on average 62% of what white men are paid. That means it takes the typical Black woman 19 months to be paid what the average white man takes home in 12 months. That's even worse than the national earnings ratio for all women, at 82%.
America has been many things, to many different people over the decades since it was first conceived. The great surprise that is often associated with the American identity is our capacity for hope, our seemingly endless imagination and the fervent belief that tomorrow will be better than today.
Today we celebrate 100 years since white women won their right to vote, and yet people of color throughout America are still fighting for that same right, even today. They fight against voter suppression, economic discrimination, a corrupt criminal justice system, and the redlining of the American Dream.
What so many of us have failed to realize all these many years, is that we have not yet really won our independence, we have not yet gained our freedom, because not everyone has been given the same opportunity to achieve the dream. It would be as if all but Rhode Island or South Carolina had been granted their independence, while the rest of us celebrated.
The fight is not yet over, our race is not yet won. But we remain, as always, a country that is hopeful. Let us not walk away until everyone has had a chance to sit at the table and enjoy the fruits of our labor. Let us delay the celebration, until we can all join in.
---
Follow David Todd McCarty on Twitter @davidtmccarty and The Standard @capemaystandard