The Cape May County Democratic Party has become nothing more than an impotent symbol of mediocrity, stagnation and futility, and requires a renewed spirit of inspired activism to become relevant again.
By David Todd McCarty | Sunday, October 25, 2020
---
We stand at the brink of an historic election, the results of which will define nothing less than the rest of our lives and the future of democracy in America. In any other year that might amount to risible hyperbole or just partisan fear mongering. But not this year. Not in the year of the rat.
No matter what the outcome, there is no question that we are entering a new era in American politics, specifically one with an electorate that is far more active and engaged than at any time since the 1960's. We are seeing a renewed interest in government, a resurgence in political activism, and critical engagement on the part of a majority of voters.
I believe we are at a unique crossroads. One in which, regardless of where we end up on Nov 4, we will need a Democratic Party here in Cape May County capable of mounting an ongoing campaign of ideas, passionate activism, community outreach and education. We do not currently have anything resembling that, no matter what anyone says, but we could. Rather than taking this is as criticism and responding with defensiveness, we can choose to come together and work towards a brighter future. I'm actually optimistic about the future of the party and it has nothing to do with the results of the upcoming election. Don't get me wrong. If Donald Trump were somehow to be re-elected, it will be devastating. But we can't roll up in a ball and wait for the hordes to overtake us. We will have a big fight on our hands either way. We might as well prepare for it.
The Left Side Of The Tracks
Cape May County, known for its Victorian estates, sleepy beach towns, horse-drawn carriages, summer vacation cottages, boardwalks and pristine beaches, represents a sort of white-washed, romanticized vision of South Jersey's historical past. In its desire to create a narrative worthy of our intrepid tourism industry, it has tended to gloss over the cultural impact of the more radical aspects of our past. Leaders such as Harriet Tubman who called Cape May home for a time, or George Henry White, who along with investor Booker T. Washington, founded the historical Whitesboro, a wholly Black community built as a product of racism and determination.
We have allowed white supremacy to propagate a myth that white conservatism is the only force operating within Cape May County. This has made it a haven for Trump supporters, as the mix of racist working class and wealthy elite have found common cause with a degenerate reality television celebrity who offered a convenient outlet for unabashed racism and rage against intellectuals, along with the promise of low taxes and unfettered capitalism.
Here in Cape May County, despite being at the far, Southern end of a very blue state, it's been quite some time since the Democratic Party has proven itself to be relevant, let alone competitive in local elections. This has caused an ideological creep further and further to the right, in a desperate attempt at capturing what they see as an increasingly conservative electorate. The party yearns for power more than change. They would choose power, rather than fight a losing battle.
The reality is that the country is moving in the opposite direction, as is the party. Despite dramatic shifts in the current American political landscape, both ideological as well as demographic, the Democratic Party establishment in Cape May County remains hopelessly stuck in the past, at least a generation or two removed from reality. It's time to shake things up.
Democrats in Cape May County need a renewal of spirit, a positive infusion of energy and the engagement of a new generation of leadership and political activism. In short, Democrats in Cape May County need something to believe in.
The Failed Promise of Practicality
The promise of practicality was the lie that quietly killed the dream. We hoped for progress, but were told it was too much to ask. We were told to be patient. To not rock the boat. We were told to keep our voices down and recognize the way things are done. Mostly it was explained that you can't govern if you don't win, so year after year, they endeavored to find candidates that wouldn't offend anyone, and who were willing to run a sacrificial campaign with little support.
The obvious conclusion of this theory was the election of Jeff Van Drew to the House of Representatives in 2018, part of the big blue wave. After decades of Republican control under moderate Frank LoBiondo, Democrats had finally flipped the seat in the 2nd Congressional District. We were told to hold our nose and accept that the seat would change the man. I was one of those who made just this claim.
As we now know, the win was terribly short-lived as it didn't take long before Van Drew's true colors came pouring forth and even he realized his position was no longer tenable within the Democratic Party. He jumped ship, leaving his backers in the lurch, and the Republican Party gloating once again.
Many progressives had warned this was inevitable, but were shouted down by the political establishment as a lack of party unity. The party machine claimed they were duped, even though they had been warned by members of their own party that Van Drew had never been a Democrat.
In response to his exit, the party leadership immediately signed on to the candidacy of the George Norcross supported Brigid Harrison, despite concerns from progressives that once again, machine politics were circumventing our democratic process. They were ignored.
It just so happened that in this case, money and political clout even bigger than George intervened and a dark hose candidate emerged. A moderate Democrat with a famous name, far reaching political connections and plenty of money upended the political establishment by out-establishing the establishment. You don't get much more entrenched in Democratic Party politics than a Kennedy, and the one-time school teacher from Atlantic County became the Democratic nominee despite not being backed by a single County Chairman.
While she's certainly not the progressive savior some would have liked, she was at least her own person and not tied to the Norcross power machine out of Newark, and progressive groups threw their support behind her. The party leadership had no choice but to support her, but she was not their choice of candidate, a situation for which they were unaccustomed to.
The Power Of Ideas Over The Ideology Of Power
There is a fundamental problem with the current thinking concerning the purpose of the Democratic Party in Cape May County. They are operating under the delusion that their entire purpose is run candidates for office. It's not even entirely clear that they believe their purpose is to win, since they seem so inept at it, but they certainly seem to be looking to wield power of some sort or another.
In order to obtain power, they have bought into the theory that all power comes from money and that the ability to fundraise, or appeal to larger pools of fundraising, is the goal. They have chosen money over ideology. This is their practical approach to politics. Again, their stated purpose is that you can't govern if you don't win, and you can't win without being well funded. This is how we got the bevy of winners we have now, from Jeff Van Drew to County Chair Brendan Sciarra. Opportunists who saw the party as a path to power.
But there is more to governing than the raw power of ruling, there is also leading and you don't have to be in office to do that. Martin Luther King, Jr was a powerful figure, who led an army, but he was never elected to public office. He changed the world, and he did so without ever winning an election. He did pay the ultimate price, but it wasn't one of his own choosing.
If America is based more on an idea than a list of laws, then democracy is based on an ideal and not merely the ability to hold the reins of power. We must be able to inspire change, not just enact it. If we want to be a shining city on a hill, we have to first tell the tale of the people living in that city. All of them.
We have to start with better ideas, and then we need to convince people of the value of our ideas. In the best case scenario, it's a community effort where the community benefits from their own engagement, as opposed to exploiting the many, to enrich the few.
Better Ideas
So what are these better ideas? There are many out there, and plenty of experts far smarter than I am who can help steer us, but here are a few to think about. This is not an exhaustive list by any means. Just some ideas and maybe some ways to think about them. I'm sure you have thoughts on these yourselves and could contribute to the process.
Economic Security
Cape May County is in an extremely vulnerable position with a weak, seasonal industry entirely reliant on tourism which is constrained by the infrastructure at hand. It is compounded by environmental dangers associated with climate change, but also with the ebbs and flows of the economic fortunes of the wealthiest among us. Nearly everyone here is hanging on by a thread because the situation is so tenuous.
Republicans do a lot of talking about bringing in new industry, but they are careful to avoid competition of their own financial interests. One of our greatest deficits as a community is our ability to provide an educated, skilled workforce for any industry that might view the peninsula as a viable opportunity. This is tied to public education of course, but also to developing a strong workforce that is protected. We need a government willing to promote policies that protect a workforce worth having. We have to stop relying on seasonal part-time businesses that cater to tourists and do nothing to help the local residents. We need to stop catering to a few privileged business owners who continue to enrich their families, off the backs of ours.
Community Safety
It doesn't really matter what you call it, but we overfund the police in this country at the detriment of almost every other need in our community. We need to rethink what public safety means, particularly when it comes to policing. We need a police force capable of protecting us from bad actors, but we don't need institutional racism dressed up as movie superhero characters to police our streets. We need people to protect us, all of us, not just some of us.
Recent studies show that over 95% of all police calls are for non-violent issues, yet we train and equip our officers for war against our own people. We need to invest in our communities, not in weapons of war. We may actually have to spend the same amount of money, but we need fewer cops and much better strategies for engaging the public.
If our goal is safety in the streets, we are clearly doing it wrong. Let's work on doing it right. We can fix this if we're all invested.
Justice That Isn't Criminal
Speaking of justice, we need to think differently about our whole criminal justice system, starting with the idea that justice goes far beyond criminality. This is a much bigger problem than what we can handle in one small, rural county, but we need to be part of the solution. Justice isn't just about criminals or criminality, but about equality in all aspects of life.
We need to start with thinking about the promise of opportunity, not strategies for oppression. Everything is not just a consequence of bad behavior, and everything can't be boiled down to individual conduct. You don't reduce teen pregnancy by limiting abortion, you do it by providing birth control. Similarly you don't fix addiction by criminalizing addicts, you deal with the question of why so many of our youth wish to escape reality.
Primarily though, we need to stop criminalizing poverty and racial minorities, which is what our system has been set up to do. Let's start there.
Public Education
Education, or the lack thereof is tied to all manner of social ills, from economic disparity and addiction, to criminal enterprise and despair. Economic opportunity begins with a quality education but we treat it like the last pup at the teat, then question the parenting of those who fall short.
We pretend that education is equal in this country, but it's not. Institutional racism, housing and economic policies, along with a corrupt criminal justice system and economic fragility work to degrade our education system.
We are not offering all kids the same education because we are not giving everyone the same starting line. What does it take to get everyone to begin from the same place? It's not just books and school lockers.
What keeps the Catholic school system going here, because it's not merely Catholics. It's either abject racism or the fear of an indigent education system.
There should not be any discussion about the public funding of religious institutions of any kind, let alone schools. All children should be required to attend public schools. Force the rich to make the schools better, not build their own.
Homelessness
There are many causes of our nation's homeless crisis, and we can't solve them all by ourselves. But we can stand together as a community and be leaders in the fight to say no one sleeps outside that doesn't want to. This is a line item fix. It's a check. It's nothing. But our failure to do anything about it, is a moral failure. If you have a hole in your roof, you don't wait to get a whole new roof before patching the hole. Let's patch the hole and bring everyone inside. No one should be cold. No one should be hungry. We can do that.
Environmental Protection
For a community living on the edge of, and entirely dependent on the ocean, we have allowed our so-called leaders to mimic the disinterest of national politics in climate change as too costly to business. But what is the cost of real estate too vulnerable to invest in? Or of polluted fishing grounds? An unsustainable environment?
If we can't protect our homes, let alone our businesses, what will be left to care about? We can't allow short-term profiteering to destroy our entire community.
Progressive Opportunities
Entrepreneurs are risk takers by nature. They are not conservative. They are not faint hearted. We need to be looking to progressive thinkers, who see the world, not as everyone else sees it, but as something to enrich, not exploit. Visionaries are not risk managers. They do not operate out of fear. They take risks that have big rewards. They aren't afraid of failure, but thrive on overcoming challenges. You don't attract entrepreneurs with conservative thinking. You don't create an environment conducive to innovation with regressive policies. We need leaders who are no longer interested in the status quo, who are not more worried about what they have to lose, than what we have to gain.
Progress requires courage and vision, not nostalgia. We need unbridled passion, not timid reluctance. We need a plan for expansion that goes beyond what we already know.
We don't need another ferris wheel—another distraction. We need fulfillment. We need artists and creators. Innovators and entrepreneurs. This could be a haven for the creative and the inspired. We have the natural beauty, let's show it to the world.
Building A Coalition
There are not enough of us. It's a fact. Democrats are currently outnumbered in the county nearly 2-1. But unaffiliated voters dwarf both parties. Until now, a majority of those tended to caucus with the Republicans, either because of ideological reasons or simply for practical purposes. If the Democratic Party hopes to ever govern again, we will need to build these numbers up.
Another failing of the local party has been their lack of any attempt to build the party. They have endorsed candidates who they feel will appeal to a more conservative base, in the hopes that they will fool them into voting for a Democrat, but they haven't made a convincing case for why they should support the party in the first place. At best, they've tried to mimic policies already established by the Republicans. But what they have't done is grow the party. Registering unengaged voters is not necessarily the same thing. This is a branding issue and the Democrats need a better brand.
Engaging Minority Communities
Like the state, and even the country, Cape May County has a growing population of Hispanic and South Asian residents who have been largely ignored. Combined with the overwhelmingly disenfranchised Black community, the minority communities of the county represent a sizable electorate that could be engaged to become politically powerful.
As is the case with the Democratic Party nationwide, we need a coalition of groups to join forces if we ever hope to compete. This isn't easy. It takes hard work, and you can't do it three months before an election. It has to be a permanent, authentic partnership, not a campaign strategy.
To begin with, we need far more people of color in leadership positions within the party. They need to tell us what the communities need. We need to support them, not the other way around.
Working People Need A Hero
I realize when you start talking about the rights of workers, you start to sound like some socialist demagogue, but when Democrats abandoned the working class, they lost their moral compass. The party needs to represent the workers, not the corporations. The people, not the money.
Everything we do needs to benefit voters, not donors. We need to find different ways to fund campaigns. To start with, we need to engage the many, not the few, so we are no longer reliant on them for their money.
If Democrats can become the party of the working stiff, we can regain our moral authority over the moneyed interests of corporate politics. It's not any more complicated than that.
A New Moral Authority
It was always a farce that the Republican Party was somehow more moral than the Democratic Party. It was a false narrative built on a legalistic theological argument that held that their man-made rules were ordained by God and so were without contestation. It was a bullshit argument, but we allowed them to make it.
The Republican Party, in light of their fealty to Trump, and willingness to abandon every principle they ever held in order to try to maintain power, will prove their undoing. They have lost all credibility with anyone willing to be the least bit objective. It's no longer a political party, but a cult. They survive now only as a matter of faith.
It's time for the Democratic Party to become the party of moral substance that actually defends the principles of liberty, equality and democracy in America. This is our country and we need to take it back from those who have stained the fabric of patriotism by appropriating the symbols of American pride as white nationalism. The flag contains stripes of two colors, not one, and represents all fifty states, not just a few.
The New Politics Of Practicality
You want to talk about being practical? Let's talk about it. Here is the reality of the future of American politics. The demographics are changing. White supremacy as a way of life is coming to an end. Climate change is our biggest threat. Women are tired of being treated like second-class citizens. Racial minorities are no longer going to sit idly by and accept what they are given.
The idea that these ideas I'm writing about are too idyllic is seriously missing the point. This isn't a vision for the future, it is the future. We simply need to decide how we can best work within the confines of this new reality and appreciate that we are much better suited than a regressive party that supports white supremacy and greed.
Idealism? No, practicality.
Playing To Win
Democrats traditionally have made the mistake of stopping at the first sign of a win. Never pushing through. Always letting the opposition regain their footing. Resting on our laurels. It's an all too common tale. Already there are those calling for calm and healing and unity, completely forgetting that if we lose on Tuesday, we are going to suffer immensely at the hands of those we oppose.
Democrats need to understand that while this may be a battle for the soul of America, and that democracy is nothing more than an idea, there are real consequences in elections and people's lives are at stake. This isn't a theoretical argument or cable news programming.
It's real life.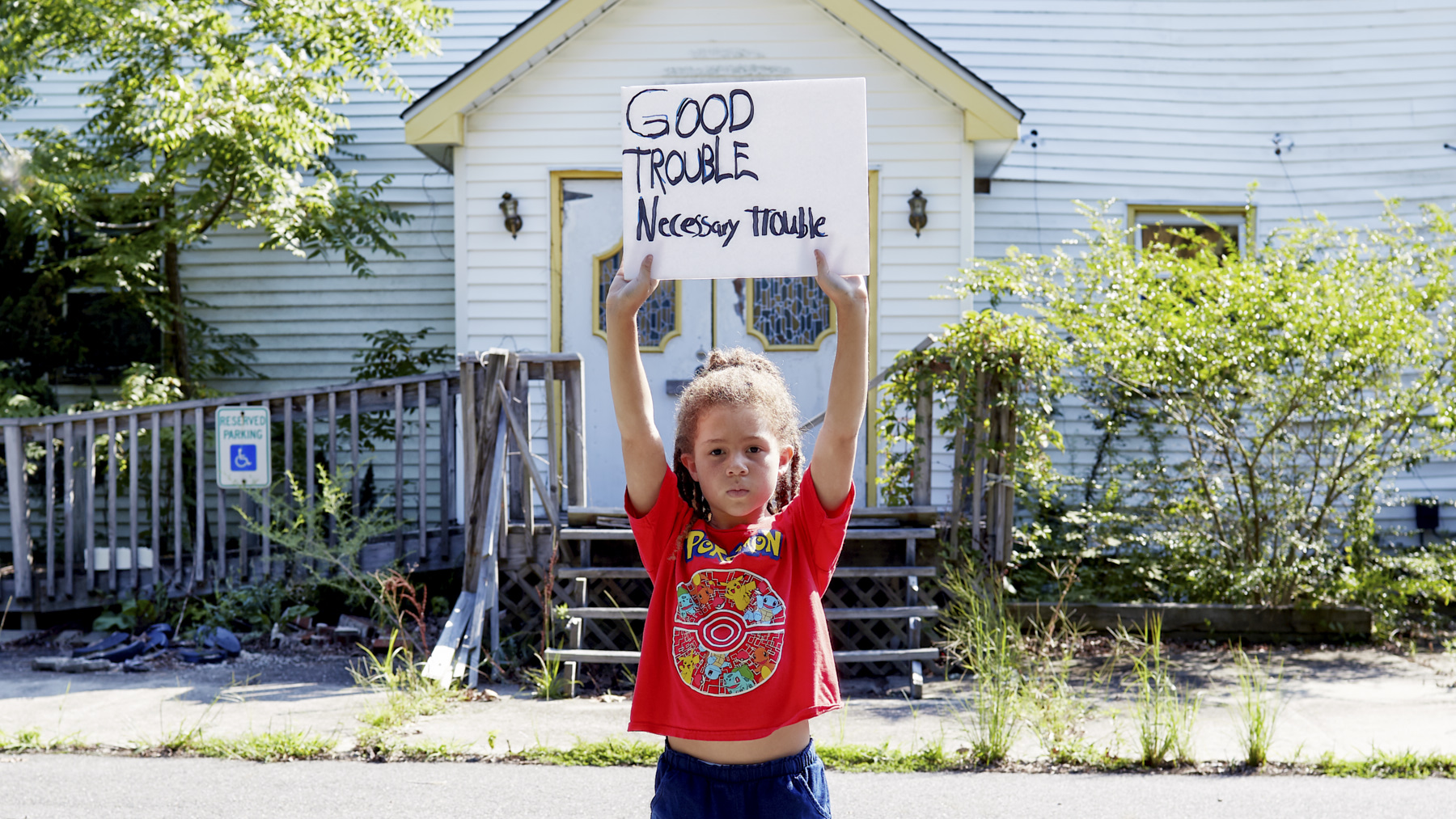 A New Democratic Party For Cape May County
We had a vote this past spring, and failed to replace the current leadership with younger, more progressive voices. But the vote was a lot closer than you might think. The tide is turning and it's not going to go in favor old, white elitists who want to talk about the good old days.
One of two things are going to happen on Tuesday, in all likelihood. One, Trump and his Republican Party are going to lose in a massive landslide that decimates the party and causes generational harm to their entire identity. Or two, Trump wins and Democrats become an opposition force, waging a war of resistance using any means necessary. The Cape May County Democratic Party leadership is prepared for neither of those two outcomes.
Let's be real for a minute. Brendan Sciarra is no doubt a decent man, an accomplished businessman and he might even think he has his heart in the right place. But he's not a gifted leader, passionate advocate or ideological activist. He simply thinks it would be good for his career to be in politics. That doesn't make him a bad person per se, but it makes him dangerously unfit to lead the party at this critical juncture in our fragile democracy. The ultimate cost of his failures might personally end up being nothing more than a change in the prices on the menu at the Mudhen, but for the rest of us, it could impact people's lives in profound and possibly irreversible ways.
The reality is you can't run a campaign shadowing the entire Republican platform and expect to inspire a Democratic Party that feels under assault at every turn. It's more than disingenuous, it's disheartening. We can't be asked to fight for the soul of the nation, but then see our duly elected leader offer to support anyone in uniform like he's the reincarnation of Jeff Van Drew wearing a fleece. We can't be asked to donate our time and money, then read about supporting calls to open indoor dining, and in-person voting, in the middle of a pandemic. We already oppose those ideas, we just expected them from the GOP. Even the Republican Party ran an ad calling out Sciarra for running as a Republican. That's not just disheartening, it's disqualifying.
I did not campaign for Sciarra and Casey and I did not vote for them. I refuse to believe that they would be any improvement over the Republicans already in office and I won't be party to another imposter using the Democratic Party platform for their own personal agenda. Trading one Wildwood businessman for another, with no change in ideology, is an exercise in futility.
The Democratic Party needs a renewed spirit of inspired engagement. A positive attitude, that no matter what challenges we face, we are not fighting alone, or for nothing. A passionate, vocal advocacy for equality and democracy.
We must recognize the failures of our past, and stop abdicating our responsibilities. We must recognize our complacency in allowing fascism to spread unabated and work towards a brighter future. But we must find light in darkness and we must inspire hope.
We really could be a party of ideas, you know. That's not bullshit. Everything doesn't have to be a structured plan or a complicated new law. Sometimes we simply need to feel inspired by what is possible. Dreams are every bit a part of leading, just as laws are. Don't let anyone tell you dreams aren't important. We call it the American Dream for a reason. Martin spoke of it. We believed.
It's time we demand change. If we can't do it with them, we will go around them or over them, but there will be change. We need to look beyond precedent and historical tradition and make up new rules that can aid us in forging new roads.
When the election is over, regardless of what happened, I for one will be a voice calling for change. It won't matter to me if those in power are Democrats or Republicans. I no longer care what you choose to call yourself, but will judge you by your actions. If you stand with racists and bigots, I will stand in opposition of you. If you support the corruption of democracy for profit, I will stand in opposition of you. If you call for patience and a return to the status quo, I will stand in opposition of you.
Cape May County needs a new Democratic Party and we need it right now. It's not personal. It's not even purely ideological. It's critical. It's necessary. It's practical.
We need new stories. We need new leaders. We need to dream again. Next week, when all the votes have been tallied, it's time to talk about our future and decide who will lead us. It cannot be those who have failed us for the last four years. It cannot be more of the same. We must demand new leaders and we must demand them immediately.
We already have a place to start because it has been women of Cape May County Indivisible who have been the true voice of the people. They have been marching, and campaigning, and calling for change. They are organizing and registered people to vote. They are meeting with Democrats and Republicans. They are moving the ball forward. They are fighting. Cassandra, Shayla, Kaylin, Shannon, Crystal and Melisha. It should come as no surprise that they are all women, that they are young, and they are diverse. This is our future. We need to heed their call.
We need something to believe in.
---
Follow David Todd McCarty on Twitter @davidtmccarty and The Standard @capemaystandard