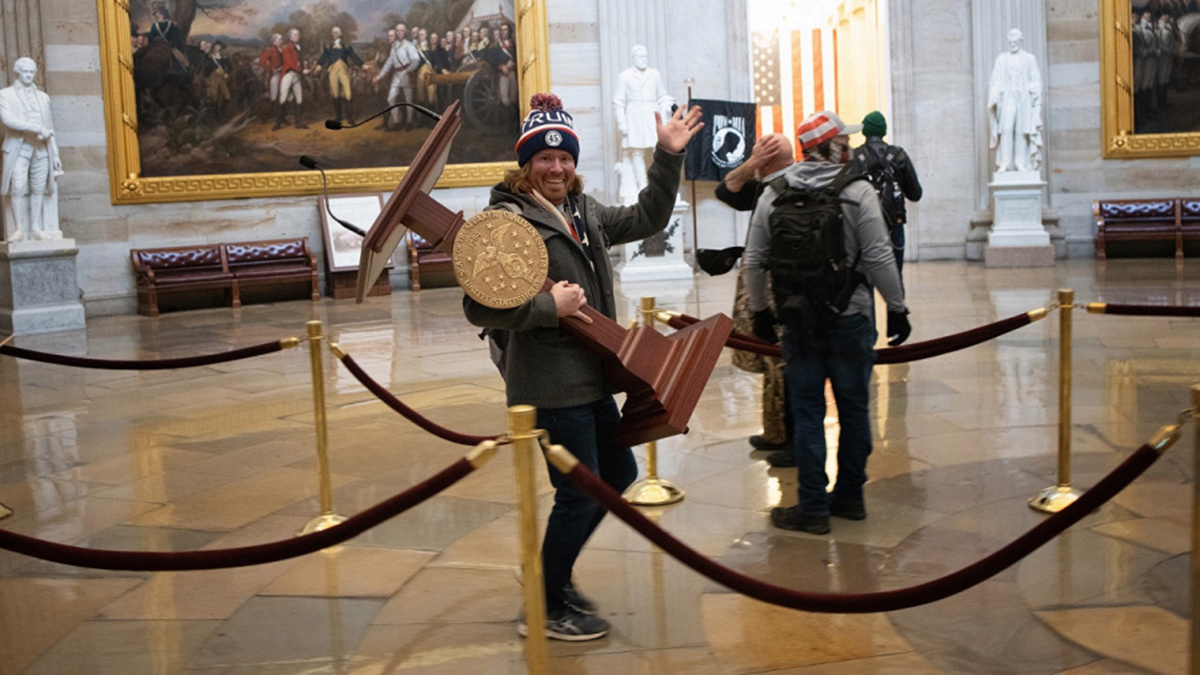 Florida Man Who Went Viral For Stealing Podium Identified
A photo of a smiling man in a stocking cap, strolling through the Capitol building on Wednesday, in the middle of a siege of protestors while carrying House Speaker Nancy Pelosi's lectern, was identified as Adam Christian Johnson, 36 of Parrish, Florida.
The image, captured by chief Getty Images photographer Win McNamee, quickly circulated on social media and became one of many meme's of the violent insurrection, was notable largely due to the casual nature of the image. Johnson is seen walking through the rotunda carrying a podium with the seal of the speaker on it, waving and smiling at the camera.
According to the Brandenton Herald, the local newspaper in Florida, "He is a stay-at-home father, who makes and sells furniture, while his wife is a doctor in Palmetto."
"His name is Adam Johnson. He lives in Bradenton, FL. Went to Lakewood ranch baptist church back when I knew him. His wife Suzi is a doctor. He mocked BLM protests online for months. Hypocrite and criminal," wrote one man on Twitter.
The FBI said in a statement, "The FBI is seeking information that will assist in identifying individuals who are actively instigating violence in Washington, D.C. The FBI is accepting tips and digital media depicting rioting and violence in the U.S. Capitol Building and surrounding area in Washington, D.C., on January 6, 2021."
Johnson has since deleted his social media and has not responded to attempts to contact him.
Five people died on Wednesday including Capitol Police officer Brian Sicknick who suffered injuries during the riot and later died at the hospital, as well as Ashli Babbitt, a 39-year-old, pro-Trump rioter who was allegedly shot and killed by police. Three others died due to other extenuating circumstances including at least which suffered a heart attack and died.